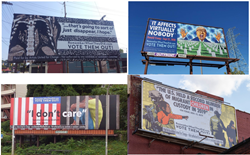 "These images are a stark reminder of the atrocities perpetrated by this President and his allies. We are connecting what has been said and done with the importance of voting. Our message is simple: Remember what they did and vote them out," said project co-founder Robin Bell.
COLUMBUS, Ohio (PRWEB) October 27, 2020
A diverse group of award-winning artists artists have launched a massive anti-Trump Street Art Campaign. The campaign has posted 213 anti-Trump billboards and thousands of street art posters in battleground cities across the United States. The street-level campaign targets communities that tend to be under-represented at the polls and missed by traditional political ads including Black, Latinx, and young voters. The art focuses on some of Trump's most offensive actions and failed leadership on issues like the Coronavirus pandemic, immigration, police brutality, and racism. Coronavirus-inspired billboards feature Trump's own words "that's going to sort of just disappear... I hope." (July 2020) and "It affects virtually nobody." (September 2020) overlaid with images of the utter devastation caused by Trump's failures. Viewers are urged to go to RememberWhatTheyDid.com, where they can pledge to vote, register to vote, learn about early voting or crowdfund more billboards in battleground communities across the country.
After the billboards made a splash in Cleveland ahead of the first Presidential debate, the campaign has expanded posting total of 213 billboards and thousands of street art posters in North Carolina (Charlotte, Greensboro, Winston-Salem, and Wilmington); Michigan (Flint, Grand Rapids, Kalamazoo, Lansing, Pontiac, and Detroit); Ohio (Cleveland, Columbus, Youngstown); Wisconsin (Milwaukee); Arizona (Phoenix) and Pennsylvania (Pittsburgh, Philadelphia).
The campaign is organized by Robin Bell, known for his video projections on the Trump Hotel in DC, and Scott Goodstein, a veteran of the Obama 2008 and Sanders 2016 campaigns and brings together some of the most critically acclaimed social justice artists of our time, including Shepard Fairey (creator of the iconic Obama Hope poster), a Detroit-based street artist, an ICU nurse turned artist from Pennsylvania (we hear healthcare workers are loving his Covid billboard), an award winning children's book illustrator, and rock artists like the long-time Nine Inch Nails creative director, along with other street and social justice artists like Milwaukee-based immigrant Claudio Martinez. A partner on the effort is Collective Super PAC, the SuperPAC affiliate of The Collective PAC which is dedicated to building Black political power with candidate support and nationwide voter registration and education campaigns. Local partners are leading the street art campaign working with local businesses to display and distribute posters.
"Some forty percent of voters aren't reached by the usual political advertising and many of these voters are in communities that are underrepresented at the polls. In an election year this important, we cannot allow any of our communities to be overlooked. We are generating enthusiasm and are excited to take this groundbreaking program to the neighborhoods where voter turnout can make the difference in this election," said Scott Goodstein, co-founder of Artists United for Change and a native of Cleveland, Ohio.
One of the new billboards by well known rock poster artist Justin Hampton depicts President Trump over endless rows of gravestones and Coronavirus germs, overlaid with Trump's remark made at an Ohio rally just days before his own Coronavirus hospitalization, "It affects virtually nobody."
"He continues to deny the seriousness of the situation. Please vote and help put an end to this American nightmare that has been the Trump Administration," said artist Justin Hampton.
"The COVID pandemic coupled with continued police brutality brought to the surface inequities across race and gender in every facet of American life. This reckoning with America's racist legacy has been led by young activists who have taken the movement for Black Lives to the streets. The artwork embodies the energy of these young activists in an effort to connect to communities on a visceral level and to move everyone to the voting booth in November," said artist Nekisha Durrett
"Again and again Trump has recklessly incited violence and hate. Recent events clearly show he is dangerous for America," said Detroit-based artist Antonio "Shades" Agee.
"Life imitates art, and the images we see have a direct impact on our democracy. The Collective is proud to work with the Artists United for Change community as they depict what we are all feeling – the need for change and realizing that change come November 3rd," said Quentin James, Founder and President of The Collective.
The RememberWhatTheyDid campaign is a project of Artists United for Change.
Key Voting Facts:

Black voter turnout fell in 2016 and latino turnout was flat, even as a record number of Americans cast ballots (Pew Research)
Black voter turnout fell from 66.6% to 59.6%
Latino voter turnout remained about the same at 47.6 percent, compared with 48 percent in 2012.
Turnout among Black millennials decreased in 2016.
Young voter turnout remained about 20 points below older voter turnout in 2016. (Pew Research)
Less than 50 percent of young voters (18-35) voted in 2016 compared to a 70 percent turnout rate among older voters (Baby boomers and the Greatest Generation).
The percentage of Blacks who said the outcome of the election matters a great deal to them jumped by 11 points, to 71 percent, from January to June. (NBC)
The Coronavirus pandemic and the associated economic crisis have hit Latinos in the U.S. particularly hard. (NBC, Pew Research)
Coronavirus hospitalizations among Latinos is nearly five times the rate of hospitalizations among whites. (Fauci/ NBC)