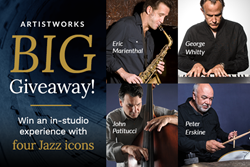 Our members enjoy a one-of-a-kind online music learning experience at ArtistWorks. So we're offering an equally unique "Big Jazz Giveaway" event.
NAPA, Calif. (PRWEB) January 14, 2019
ArtistWorks, the leading provider of online music education and creator of Video Exchange Learning® has announced its Big Jazz Giveaway. One Winner will be flown to the company's headquarters for an in-studio experience with award-winning jazz musicians John Patitucci (jazz bass), George Whitty (jazz piano), Eric Marienthal (jazz saxophone), and Peter Erskine (jazz drums). Winners will spend the day with the masters and crew in the video recording studio.
"Our members enjoy a one-of-a-kind online music learning experience at ArtistWorks. So we're offering an equally unique "Big Jazz Giveaway" event," said John Graves, Vice President of ArtistWorks.
The Big Jazz Giveaway contest winner will receive up to $500 in air and ground transportation as well as hotel accommodations for two nights. The in-studio experience includes a meet and greet, lunch, a reserved seat in the control room during the video recording session, an on-camera lesson or jam with the artists as well as a one year VIP subscription to ArtistWorks online learning platform. Winners will also receive video footage and photos of their time spent in the studio with the masters.
About the Artists
Peter Erskine first started playing drums when he was four years old. Since then he's appeared on over 600 recordings, won two Grammy® Awards and an Honorary Doctorate from the Berklee College of Music. He's played with legendary artists including Freddie Hubbard, Chick Corea, Jaco Pastorius, Weather Report, Stan Kenton, Maynard Ferguson, Steely Dan, Joni Mitchell, Pat Metheny, John Scofield and many more. Peter's drumming can be heard on many film scores which include "La La Land", all three of the Austin Powers movies and many more. He has his own record label Fuzzy Music which produces jazz and has authored several drum technique books. He's been teaching at ArtistWorks online since 2016.
One of the world's most respected jazz bass players, John Patitucci has played with some of music's biggest names including Wayne Shorter, Chick Corea, B.B. King, Herbie Hancock, Wynton Marsalis, Wayne Shorter, Dizzy Gillespie, George Benson and many others. Known for his versatility, sensitivity and tone, Patitucci is widely regarded as one of today's most influential jazz musicians and composers. John is the Artist in Residence at the Global Jazz Institute at Berklee College of Music, and continues to compose and record music that reflects his interests in jazz, classical, Brazilian and pop. Since 2012 John has brought his love of teaching to ArtistWorks for students around the world.
George Whitty is a multi-Grammy® and Emmy® award winning jazz piano player. He has worked with a long list of top recording artists who include Herbie Hancock, Wayne Shorter, Michael and Randy Brecker, Chaka Khan, Carlos Santana, Celine Dion, and more. As a talented producer, arranger and composer, he has worked on a wide variety of projects which include orchestral scoring for films and composing music for hundreds of television episodes. George has a long history as an educator having taught at masterclasses and clinics in more than 20 countries around the world, teaching jazz piano as well as sharing his expertise on producing and scoring music. George has taught jazz piano at ArtistWorks since October 2015.
Eric Marienthal is a Grammy® award winning jazz saxophone musician. He studied at the Berklee College of Music in Boston where he eventually was awarded the Berklee Distinguished Alumnus Award for outstanding achievements in contemporary music. He later became an integral member of the Chick Corea Elektric Band, where he recorded 6 albums and received 2 of his 5 Grammy nominations. He has since performed in over 80 different countries and has recorded 13 solo albums. Some of the many artists Eric has performed with include Elton John, Barbra Streisand, Billy Joel, Stevie Wonder. The jazz saxophone online lessons here at ArtistWorks feature both alto and tenor saxophone.
ArtistWorks "Big Jazz Giveaway" contest registration runs until January 27, 2019. The Big Giveaway in-studio experience will be on April 16, 2019 in Napa, California.
Jazz fans should enter on the ArtistWorks website by clicking here.
Jazz musicians can also enjoy plenty of free sample lessons at ArtistWorks.
All online music teachers can be seen at ArtistWorks.com
About ArtistWorks
In 2008, former AOL executive technologist David Butler set out to finally master jazz guitar. With no acceptable teachers in his area, he built a revolutionary online system to enable anyone to get direct feedback from a master teacher anywhere in the world. Founded by David and former financial executive Patricia Butler, ArtistWorks is the leader in a new generation of online learning platforms. This multi-patented Video Exchange® Learning platform enables world-renowned musicians to "teach the world music" by presenting their teaching legacy in the form of extensive video lessons and direct feedback to subscribing students - creating an innovative, two-way online learning experience called "Video Exchange".
For more information, visit ArtistWorks.com.