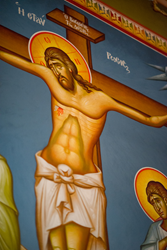 The icon of Christ with the gold leaf around it looks great lit by SoLux.
Rochester, NY (PRWEB) February 19, 2015
Tailored Lighting, makers of SoLux natural daylight sources, was commissioned to illuminate new icons painted by Tom Clark in the Holy Spirit Greek Orthodox Church located in Rochester, NY.
In 1998, the parish entered the present location, the former South Avenue Baptist Church. Construction of an iconostasis and the placement of icons in the altar area transformed the sanctuary into a home of Orthodox prayer and worship. An icon (from Greek εἰκών eikōn "image") is generally a flat panel painting depicting Jesus, Mary, saints and angels.
Peter Los, of Holy Spirit contacted Kevin McGuire, President of Tailored Lighting and inventor of SoLux, to re-light the church after installing SoLux lighting in his own home. "The lighting in our church is fabulous. It really brings the best out of the icons on the walls...The icon of Christ with the gold leaf around it looks great - before it was completely in the shadow." James Palis another parishioner involved in the re-lighting of the church commented, "I think the lighting is an incredible enhancement to the iconography and the ability to dim (the lighting) was essential to the Lenten and Holy Week services."
Tailored Lighting also used SoLux lighting in the church to demonstrate a unique lighting technique. SoLux lights illuminated the stained glass windows still preserved from their baptist beginnings from inside the church and the resulting images were observed by passersby on the city streets of Rochester. According to Kevin McGuire, "SoLux lighting provides a presentation of stained glass surpassed only by natural daylight. By lighting the stained glass from inside the church with SoLux, the community can share in the beauty the parishioners see. Perhaps as more churches incorporate what I call the "communification" of their church by installing SoLux to illuminate artwork, both inside and out, more people will want to enter these welcoming doors of faith."
SoLux is a patented light source sold by Tailored Lighting Inc., Rochester, New York, 14624. SoLux provides an unparalleled replication of natural daylight. Use of SoLux in many of the world's top museums including the van Gogh, Musee d'Orsay, MoMA, and Guggenheim is testament to its unmatched color quality and safety. SoLux also has eight times the life and twice the efficiency of standard incandescent sources and is dimmable. For more information visit http://www.solux.net or call (800-254-4487).