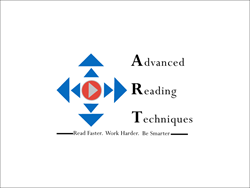 "..the philosophy was to focus purely on adding to the reading experience without any distractions...
Cambridge, MA (PRWEB) April 30, 2014
Advanced Reading Techniques new ARTReader App activates the reading experience by guiding readers' eyes through on-screen text with a controllable Meta-Guide.
Advanced Reading Techniques LLC, developer of the experimental speed-reading app, quietly launched the vanguard product two weeks ago. ARTReader's technology presents texts with a Meta-Guide, a scrolling cursor that guides readers' eyes through text like a fingertip that can be adjusted for speed and position without pausing, allowing for total focus on the text. It includes multiple presentation options and detailed Word Per Minute (WPM) metrics that track reading habits and provide predictive Time Remaining estimates.
ARTReader is available for purchase in the Mac App Store and coming soon to iPad and iPhone.
Designed for the laptop/desktop to empower those who must read the most for working reasons, such as students and professionals, ARTReader also serves the general reading public by working with ePub files and websites. The new technology makes reading long documents faster and more efficient, enabling readers to select text or entire links and drag and drop them onto the app icon for viewing with custom-selected settings and Meta-Guides.
"We've created a mechanism that will fundamentally change the way people read from their screens," said Co-Founder and CEO Mark Loughran. "The Meta-Guides help the eye stay on point, and the scrolling keeps the view always on the text. Controlling adjustments can make reading like a video game, with the Metrics showing the scores. The playlist has time estimates for easier scheduled reading. This is a treadmill for the mind," Loughran said. "The more you use it, the faster you'll get."
HOW ARTReader WORKS
ARTReader's technology displays texts with a scrolling cursor called a "Meta-Guide," which helps the eye to pace line by line at a set speed. As text progresses, the system scrolls down without page breaks, keeping reading continuous and vision focused on the centerline. If place is lost, readers may slow the speed and skip back to the previous lines lost to pause adjust. Unlike other speed-readers focused on RSVP, ARTReader keeps the field of text in view for a more familiar visual feel and better context. Recent studies suggest the regressive eye movements, or rereading lines, consume 10-15% of reading time, but contribute greatly to the comprehension of the text. With greater usage, the algorithm can make more accurate predictions for estimated reading time. The toolbar displays current speed and a countdown to predict time remaining.
For the past five years, ARTReader was just a hypothesis. The founders began collaborating in Fall 2012 and focused on making the most streamlined and efficient product to release to the public. With the current program, users can display accurate reading speeds up to 1500 WPM and beyond. (For U.S. adults, the average is 250-300 WPM.)
The App is not exclusively designed for speed-reading. Additional fonts may be added, including OpenDyslexic, which helps dyslexic readers and those with other learning challenges.
"We knew as it developed, testing it ourselves, that it would help people read more efficiently," said Co-Founder and Director of Software Engineering John Sievel. "It's built for productivity. The philosophy was to focus purely on adding to the reading experience without any distractions. It became more than just a vehicle for books, anything you might want to read on screen that requires significant time and attention."
ARTReader currently supports any Left to Right Horizontal (LTRH) language, such as English, German, French, or Spanish. It supports ePub files, as well as any .txt, .html, .xhtml. Readers may open from apps such as Word and Email. The system raises and lowers reading speeds in 25WPM intervals while actively scrolling, allowing for a range of speeds and adapting to the immediate focus required. Determining optimal conditions requires experimenting with the settings and then checking the Metrics files to see changing WPM averages. The company plans to release an API and SDK to get the technology into multiple devices and other reading apps, as well as a developing a centralized web presence for analytics.
For more information, visit http://www.advreadtech.com.
About ARTReader
Advanced Reading Techniques; founded in April 2014 by Boston University graduate Mark Loughran (SMG, Entrepreneur 10') and John Sievel, a recently retired computer programmer and UConn alumnus (BSEE, Computer Science '73) after meeting thru hiking the Appalachian Trail in 2012. Despite neither having any credibility as a reading expert, no investors or sponsorship, their mission is to improve the reading experience on digital screens.
SOURCE Advanced Reading Techniques, LLC
RELATED LINKS: (http://www.advreadtech.com)