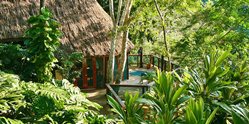 We've been saying that extraordinary times require extraordinary responses. And fortunately, Belize does extraordinary very well
SAN IGNACIO, Belize (PRWEB) July 16, 2020
Belize's early and effective handling of the Coronavirus pandemic has earned the little Caribbean country accolades, yet reopening for international guests still depends on forces outside Belize's control, The Lodge at Chaa Creek's managing director recently explained.
Bryony Fleming Bradley said she and other Belize tourism industry colleagues are anxious to reopen, but appreciate that travellers' health and safety are the number one priority.
"Our staff, tour guides, suppliers and everyone involved in Belizean tourism have really pulled together to ensure Belize remains one of the world's safest travel destinations.
"All of us, including people who love to visit and vacation here, are anxious to see international travel resume. But, obviously, everyone's health and safety must come first.
"It's now a matter of ensuring that getting here is as safe as being here," she added.
Ms Bradley said Belize's low population density, abundance of protected wilderness areas, a national culture of cooperation, and nature-based tourism all contribute towards making Belize a uniquely safe tourism destination.
And, as Chaa Creek grew to harmonise with nature, with abundant green spaces, tropical gardens, ample room between accommodations and amenities, and with the surrounding 400-acre private nature reserve and nearby Macal River continually refreshing the air, the popular eco-resort is inherently healthy, Ms Bradley said.
Now that Belize's tourism Industry looks towards cautiously reopening, resorts, hotels, restaurants and the hospitality sector are working with government to ensure that Belize maintains its global reputation for sustainable tourism and safe, responsible travel.
The latest example of this commitment is the Belize Tourism Board's recent release of mandatory operating procedures for the tourism and hospitality industry, with a Tourism Gold Standard Recognition Program that includes a nine-point checklist.
The guidelines and checklist can be found on the Belize Tourism Board's website and Chaa Creek's Belize Travel Blog. It includes criteria such as having a staff member dedicated to overseeing implementation of the program and liaise with the Belize Ministry of Health, employees and guests.
Appropriate use of face masks, social distancing, stringent hygiene and other protocols are clearly outlined. Online check-in and check-out, contactless payment facilities and other systems to reduce face-to-face interactions are required, as are hand sanitising stations.
Ms Bradley said compliance with the BTB guidelines has been easy, as Chaa Creek already has most of the required measures in place.
"Even though we've been closed, we've remained busy at Chaa Creek preparing to open in the safest, healthiest manner possible. In addition to maintenance and additional work we've undertaken, such as installing more hand sanitisers, and placing masks and current information in rooms, our managers have been organising additional staff training to meet and exceed the most rigorous global best practices," she explained.
Ms Bradley encourages people to visit the BTB and Chaa Creek websites, including the Belize Travel Blog, to receive the most up-to-date information on the current situation. Interested parties should feel free to contact Chaa Creek with questions, comments, or to make flexible bookings.
"We've been saying that extraordinary times require extraordinary responses. And fortunately, Belize does extraordinary very well. It's something we pride ourselves on, Ms Bradley said.
The Lodge at Chaa Creek is a multi-award winning eco resort set within a 400-acre private nature reserve along the banks of the Macal River in Belize. It was recognised by National Geographic with first place honours at the 2017 World Legacy Awards held in Berlin.