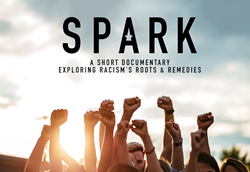 To really make a difference in fighting the scourge of sytemic racism, it takes not only Black people, who've been fighting this fight for generations, but also White people committing to actively live as anti-racists.
SAN DIEGO (PRWEB) February 06, 2021
Moving into Black History Month, Amateur Films today announces the use of their 30-minute non-commercial documentary — Spark: A Systemic Racism Story — as a complimentary resource for individuals, companies, academic institutions, and organizations to explore racism's roots and remedies. Since the film's release in December 2020, teachers, professors, CEOs, and diversity equity and inclusion (DE&I) leaders began utilizing Spark as a racial justice, equity, and sensitivity resource.
Spark is an historical and present-day assessment of systemic racism, a review of history's black justice-fighting changemakers, and the actions whites can take to become black community allies. Spark's educational, gripping, and bipartisan content, narrated by Bruce Greenwood (JFK in 13 Days), makes it unique among racial justice and racial equity films. Spark has gained traction as a catalyst for DE&I programs at myriad organizations. In addition, the thirty-minute film has been implemented into educational programs from California to New Jersey, including Stanford University's Anti-Racism and Allyship 7-Day Journey.
The tragic death of George Floyd sparked the largest global protest in the history of the world, a nationwide discussion, and a more profound look at deep-seated, systemic racism in America. The producers' participation in a local demonstration inspired these white allies to create a non-commercial educational documentary to encourage recognition of unconscious bias and show a path to unlearning the historical narrative that redefined an entire race.
The documentary is an aggregator of interviews and clips of prominent racial justice advocates providing historical context of policies and procedures that led to the oppression of the black community. Spark also proposes pragmatic, creative remedies in policing, criminal justice, and society.
"While watching the George Floyd protests unfold, it was clear the nation was experiencing a moral awakening," said Trent Gegax, story and editor producer. "Spark: A Systemic Racism Story aims to educate through awareness, listening, and the daily practice of anti-racism because until everyone is free, no one is free."
The documentary is presented in complete, abbreviated, and mini versions and can be viewed at http://www.spark-doc.com.
About Amateur Films, LLC
Amateur Films, LLC is based in Minneapolis, MN, created in 2020 by Tom Gegax and Mary Wescott of the Gegax Family Foundation. The production team is made up of volunteers and includes talented and passionate neighbors in addition to the retention of top Hollywood writers, editors, composer, and sound and color expert. Amateur Films was inspired by the June 2020 George Floyd protests as well as Gegax's personal experience during the late 60s civil rights uprisings, when, working in Chicago with 14 black service station owners in his territory, he developed deep personal and business relationships as they protected him from harm during these uprisings and their aftermath.
Media Contact:
Stephanie Ramirez
Associate Producer
stephanie@gegax.com
(619) 701-7187