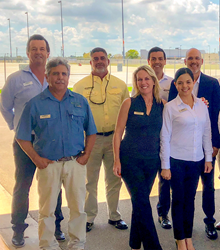 BOYNTON BEACH, Fla. (PRWEB) October 17, 2020
Lebolo Construction Management, Inc. is opening an office in Orlando, Florida. The move continues the South Florida-Based construction management firm's multi-year expansion plan, which is driven by the need to better service its clients along the I-4 Corridor.
The Orlando office will be the company's second branch office to have opened in the past decade. In 2011, Lebolo opened their Tampa Office. Lebolo realizes that professional relationships are all about strong trust and positive collaborations. The firm is known for quality projects for private clients such as Wells Fargo and Divine Savior Academy as well as public clients such as Palm Beach International Airport and Palm Beach State College. With this new office location, Lebolo will continue to focus on fostering clients in the retail, office, educational, industrial, medical and hospitability sectors. "This is an exciting new chapter for us. We see tremendous opportunities on the horizon, and with a talented team of professionals, we are confident we have a winning combination for a focused expansion into Central Florida," said President Randy Lebolo.
Celebrating 20 years in business, Lebolo Construction Management, Inc. is a construction management and general contracting firm with a service-minded approach. From inception to completion, Lebolo manages all client construction projects regardless of size or complexity, allowing clients to maintain focus on their core business. The company has managed and built hundreds of construction projects in the Southeast and Latin America. Its proven resume encompasses both new construction and the renovation of numerous federal, commercial, educational, entertainment and medical clients.
Learn more at http://www.lebolo.com.