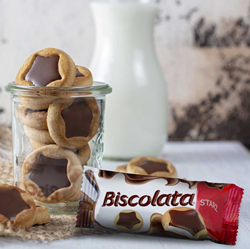 "People need simple pleasures like chocolate that bring joy to their day. Our chocolate sales hon Amazon ave been higher than ever, which we attribute to both our reputation for delicious snacks as well as statistics that show dark chocolate and cocoa products relieve stress."
GAZIANTEP, Turkey (PRWEB) July 28, 2020
Not surprisingly, the global pandemic is pushing people's stress levels higher than seen in years. Yet findings from a recent study by the International Journal of Health Studies have given people a glimpse at a silver lining: Chocolate helps. That comes as no surprise to the team at ŞÖLEN, maker of Biscolata chocolate snacks, which has seen sales on Amazon soar over the past four months.
In fact, according to Nielsen data, during the 17-week period that ended on June 27, U.S. consumers alone spent $3.7 billion on chocolate, up 6.3% from that time period last year.
Founded in 1989, ŞÖLEN is a family-owned business that produces chocolate bars, cookies, crackers and cakes so delicious they earned the 54th spot on Candy Industry Magazine's Global Top 100 List. Their assortment of elegant creamy and crunchy goodies includes mini dark chocolate wafer bars, chocolate cream-filled rolled wafers with coconut or hazelnut and tea biscuits covered in chocolate.
The brand's especially popular Biscolata Duomax Milk Chocolate Wafer Bar Snack Cookies, Biscolata Duomax Hazelnut Chocolate Wafer Bar Snack Cookies, Biscolata Minis Dark Chocolate Wafer Bars and Biscolata Nirvana Rolled Wafers Snacks with Premium Chocolate Cream Filled – Hazelnut have all been selected as Amazon's Choice products. Likewise, the treats have earned the top 5-Star rating from 94 percent of the thousands of customers who have purchased Biscolata products during the past year.
"Over the past 30 years, we have stayed true to our core family traditions and values to elevate chocolate making to an art and ensure our products exceed our customers' expectations time and again," said Erdogan Coban, General Manager, ŞÖLEN.
"With COVID-19, we take that responsibility even more seriously. People need simple pleasures like chocolate that bring joy to their day. Our sales have been higher than ever, which we attribute to both our reputation for delicious snacks as well as statistics that show dark chocolate and cocoa products relieve stress," he added.
Şölen has grown to become one of the most innovative companies in its industry in Turkey and around the whole world. It employs approximately 2000 people and exports over 200 different products to 120 countries from the Maldives to Belgium, to the U.S.
For more information about Biscolata or to order, go to http://www.amazon.com and search "chocolate."