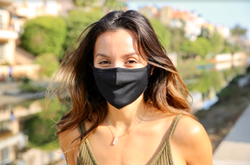 LOS ANGELES (PRWEB) October 14, 2020
Though it has been more than eight months since the coronavirus pandemic started, there doesn't seem to be any end in sight. With the global COVID-19 death count recently surpassing one million, flu season starting, and the U.S. Centers for Disease Control and Prevention (CDC) predicting a second surge of coronavirus cases this winter, it's imperative that each person practice wearing face mask protection, washing hands frequently, and social distancing. This may be unwelcome news for those of us who are weary of wearing face masks. But it's necessary to stymy the spread of the pandemic: "We are not defenseless against COVID-19," said CDC Director Dr. Robert R. Redfield. "Cloth face coverings are one of the most powerful weapons we have to slow and stop the spread of the virus."
Fortunately, Gaiter King has a solution for those tired of donning masks: a face mask that you'll forget you're wearing. The outdoor apparel company recently launched its new line of X-Series face masks. Featuring adjustable earloops and nose bridges, the X-Series face mask is designed to be one-size-fits-all and optimized for comfort. A user can make the fit tighter or looser by simply tugging on the tags at the ends of the mask. Many first-time wearers have stated that it's like wearing no mask at all.
But just because it's comfortable doesn't mean that the X-series face mask skimps out on safety features. Each one is made from 100% 2-ply interlock polyester and infused with a copper and silver anti-microbial treatment. Like other Gaiter King products, the X-Series face mask also offers moisture-wicking capabilities to keep users cool and dry as well as UPF 50 protection to block more than 97% of the sun's rays.
Gaiter King has developed a reputation among outdoor enthusiasts and professionals across numerous industries for building durable products. The X-Series face mask is no different; the anti-microbial solution applied to each mask is rated to withstand at least 100 washes without losing effectiveness.
While the Gaiter King family of employees come from a variety of backgrounds, they do share one thing in common: their adoration for nature. That's why the X-Series face mask is completely made from eco-friendly materials. And as with all of its other products, the X-Series face mask is 100% American-made.
Established in Southern California, Gaiter King was founded by a group of outdoor enthusiasts who create functional, fashionable, and durable apparel for nature lovers and working professionals across the agricultural, construction, logistics, and energy industries. From yarn sourcing to cutting, printing, and sewing, all of Gaiter King's face masks and neck gaiters are 100% made in America by U.S. workers with American materials.
Learn more about Gaiter King's new X-Series face masks here.