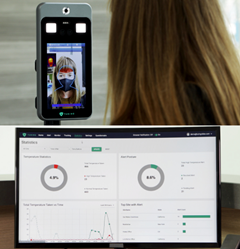 "Since installing our systems, our Enterprise-level customers are able to put the necessary protocols and procedures in place to reopen with peace of mind that they are protected, their employees are protected, and they are fully in compliance with the latest best-practices and regulations."
SAN MATEO, Calif. (PRWEB) October 07, 2020
The most recent litigation data reveals COVID-19 workplace lawsuits in the United States steadily climbing, as that number now approaches 1,000 cases. Employers and employees alike are anxious to get back to work in the safest possible way, and these numbers do nothing to ease the anxiety on both sides. Turing Video, the Silicon Valley-based tech startup, has gotten ahead of this trend with the state-of-the-art Turing Shield, a CDC-compliant Body Temperature Scanner and fully-encrypted data management platform powered by Turing Biometrics.
The Turing Shield is a holistic solution that meets the burden of detection, offers fully-encrypted data storage, and provides contact tracing in compliance with state and federal laws and guidelines. The latest generation of the Turing Shield is pending FDA-approval and in compliance with FDA Safe Harbor regulations.
"Here in California, Assembly Bill 685 requires that employers notify employees of potential COVID-19 exposure within one business day, to report this information to appropriate public health agencies within 48 hours, and to keep records of these notifications for 3 years," said Turing Video's VP of Sales, Rick Gouveia.
"The Biometric Technology that powers the Turing Shield provides a safe, contact-less method for measuring the body temperature of each employee as they enter the workplace and allows for storage of this data on a fully-encrypted Linux-based platform. This provides a system of record that protects both the employers and employees of any enterprise that installs it."
See the Turing Shield in action: https://turingvideo.wistia.com/medias/ic82yfkuwq
Turing Video chose to focus on body temperature measurement and detection in accordance with the CDC reporting that fever is still the number one symptom for most COVID-19 patients. The Turing Shield's temperature screening system contains enhanced artificial intelligence, providing automated highly stable, fast and accurate non-contact temperature measurements, within ±0.5°F (±0.3°C) in less than 0.1 seconds per scan, under extreme background conditions. The Turing Shield can be used in both indoor and outdoor settings.
This enhanced AI technology is combined with a highly secure cloud-based data management platform, creating a Sarbanes-Oxley compliant system of record to help any organization reopen with confidence and peace of mind. Companies who have installed the system are seeing immediate results in maintaining the safety of their workplace.
According to the most recent Center for Disease Controls (CDC) guidelines posted on their website, "All employers need to consider how best to decrease the spread of COVID-19 and lower the impact in your workplace. This should include activities to:

prevent and reduce transmission among employees,
maintain healthy business operations, and
maintain a healthy work environment."
Since the launch of their original Body Temperature Thermal scanner earlier this year, Turing Video's COVID-19 response solution has been trusted by more than 600 Enterprise Customers including AT&T, Peloton, Alaska Airlines, the US Veterans Administration, Ohio State, M&T Bank, and Albertsons Companies including Safeway. In addition, Turing Video has entered into more than 100 partnerships with leaders such as SHI, Access Products, InterVision, and Carahsoft.
The latest COVID-19 news is grim: President Trump has tested positive and is in treatment for COVID-19, while Amazon is reporting that nearly 20,000 workers have been diagnosed with the disease. The American public is increasingly living in fear and disbelief that life can return to any sense of normal. Now more than ever, enterprises that choose to reopen, and organizations that provide essential services, need to operate in an environment that meets all necessary safety protocols.
Turing Video's VP of Marketing Yi Jin, Ph.D. summarizes it this way, "Since installing our systems, our Enterprise-level customers are able to put the necessary protocols and procedures in place to reopen with peace of mind that they are protected, their employees are protected, and they are fully in compliance with the latest best-practices and regulations."
The Turing Shield features include:

Customizable Health Questionnaire
HIPAA Compliant Data Storage
Face Mask Detection
Temperature screening (±0.5°F/±0.3°C)
Access Control – HID card access, badge printing and more
Centralized Monitoring of all Thermal Scanners
Safe and Secure Record Keeping with configurable Biometric Data
Real Time Alerts via Email/SMS
Contact Tracing based on Biometric Data
Simple and Easy Reporting to support new COVID-19 Legislations
Currently available in the United States, Turing Video's Body Temperature Thermal Scanner will be available in Europe in early October 2020. For sales inquiries, contact Turing Video by email at sales@turingvideo.com or phone (+1) 877.730.8222.
About Turing Video: Turing Video was founded in the heart of Silicon Valley in 2017. Our team's vision is to utilize AI and robotics to bridge the space between security and technology to advance industries and human capabilities. At our very core, we develop complex, deep-learning machine learning models to integrate with industry-proven robotics, video analytics, and health solutions to create interconnected AI-enabled IoT (Internet of Thing) solutions unlike any other in the world. Our diverse team of engineers and entrepreneurs create an environment rich in ideas, explorations, and solutions. Since our inception, we have expanded our footprint around the world where Turing's products have become key assets for managing operations at leading real estate companies, top 100 retails, casinos and gaming, and corporate data centers.