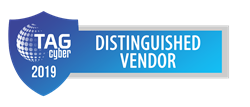 "Synack delivers scalable, effective, and efficient security testing and the CISO is empowered with ultimate control. Our recognition by CIO Review and TAG Cyber makes it apparent that crowdsourcing your security is becoming best practice."
REDWOOD CITY, Calif. (PRWEB) October 04, 2018
Synack, Inc. ("Synack"), the leader in smart crowdsourced security testing, announced today that it has been selected as the recipient of two awards: most promising security enterprise vendor by CIO Review and a TAG Cyber distinguished vendor. As cybercrime was reported to cost the world close to $600 billion last year (up from $445 billion in 2014), Synack has been recognized for its crowdsourced security platform that helps businesses scale their offense to find vulnerabilities, utilize security testing performance data to understand how resistant they are to a cyber attack, and effectively mitigate their cyber risk.
"Cybersecurity is near the top of pressing global issues, and American businesses are trying to find ways to stay ahead of the growing threat" said Jay Kaplan, co-founder and CEO of Synack. "Security leaders are increasingly looking to Synack's crowdsourced platform powered by top, trusted ethical hackers. Synack delivers scalable, effective, and efficient security testing and the CISO is empowered with ultimate control. Our recognition by CIO Review and TAG Cyber makes it apparent that crowdsourcing your security is becoming best practice."
As Gartner estimates that automated and crowdsourced security testing platform products and services will be employed by more than 50% of enterprises by 2022, it's not a matter of if companies will decide to crowdsource; it's a matter of how and when. With security vulnerabilities leading to business down-time, stolen data, nation-state interference, and climbing costs, enterprises and government agencies are considering security risk more than ever before. Crowdsourced security solutions need to be effective, efficient, and controlled in order to best match the creative and relentless attacks sustained by organizations every second of every day.
Synack, the market leader of crowdsourced security testing, protects nearly $1 Trillion in Fortune 500 revenue, Top 10 Consulting Firms and Security Companies, 75% of Top Credit Card Companies, and holds more than 78% of the market share of the federal crowdsourced security market.
For more on the most promising security enterprise vendors of 2018 by CIOReview, please visit: https://syn.ac/2E2RIoa.
For access to TAG Cyber's 2019 Handbook for Cybersecurity Professionals (including the 2019 Distinguished Vendors), please visit: https://syn.ac/2y4OyLB.
About Synack
Synack, the market leader in crowdsourced security testing, provides real security to the modern enterprise. Organizations who choose Synack don't have to compromise on effectiveness, efficiency, or control when they activate the crowd. By leveraging the world's most trusted ethical hackers and an industry-leading platform, Synack finds and helps fix critical security issues before criminals can exploit them. Headquartered in Silicon Valley with regional offices around the world, Synack has protected over 100 global organizations by reducing companies' security risk and increasing their resistance to cyber attack. For more information, please visit http://www.synack.com.