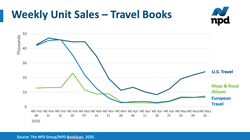 The re-emergence of travel books indicates that local and regional travel in the U.S. will be popular this summer, as COVID-19 keeps many people from flying,
PORT WASHINGTON, N.Y. (PRWEB) May 26, 2020
As the COVID-19 crisis continues to affect sales, and as book stores and other business in certain areas of the country begin to open, many readers are looking ahead to summer vacations and travel plans. While travel book sales have declined 40 percent year to date, the category has experienced four weeks of consecutive growth through the week ending May 16, 2020, according to The NPD Group (http://www.npd.com).
The largest rebound came from U.S. travel book sales, which increased 77 percent in the most recent four-week period compared to the prior four-week period. By region, travel books for the Western U.S. states were the most sought after, growing 108 percent.
"The re-emergence of travel books indicates that local and regional travel in the U.S. will be popular this summer, as COVID-19 keeps many people from flying," said Kristen McLean, books industry analyst for NPD. "Data from other practice areas at NPD also shows a rise in sales for outdoor toys and equipment, grills and outdoor cooking gear. It certainly seems to be shaping up to be a summer of road trips and time spent in the great outdoors."
All travel categories in books have shown notable increases in the most recent four-week period. After U.S. travel books, the largest gains in unit sales in the four weeks ending May 16, 2020 have come from maps and road atlases, which grew 106 percent. Sales of parks and campground books also rebounded, growing 123 percent in the most recent four-week period reported by NPD BookScan.
During the same four-week period, many outdoor subjects also boasted strong growth. Sales of hiking books grew 131 percent; while running and jogging books were up 113 percent. Sales of outdoor skills books, which peaked at the start of the COVID-19 period, are also on the rise, with unit sales growing 12 percent.
###
About NPD BookScan
NPD BookScan is the gold standard in point-of-sale tracking for the publishing market, covering approximately 85 percent of all the print books sold in the U.S. through direct reporting from all major retailers including Amazon, Barnes & Noble, Walmart, Target, independent bookstores, and many others. Each sale of the more than 13 million units tracked on a weekly basis includes geographic information making it possible to identify key markets, map regional sales trends, and index the likelihood of purchase in 200 major metro areas. NPD BookScan is also the exclusive provider of ALR data for Barnes & Noble, Target, Walmart, and Sam's Club to U.S. publishers.
About The NPD Group, Inc.
NPD is the leading global provider of market information and business solutions covering brick-and-mortar, e-commerce, and emerging channels in more than 20 industries. We combine our unique data assets with analytic solutions to help our clients measure performance, predict trends, and improve results, advising them to help drive successful growth. Practice areas include apparel, appliances, automotive, beauty, books, consumer electronics, e-commerce, entertainment, fashion accessories, food consumption, foodservice, footwear, home, juvenile products, mobile, office supplies, retail, sports, technology, toys, games, and watches / jewelry. For more information, visit npd.com and npdgroupblog.com. Follow us on Twitter: @npdgroup @npdbooks.