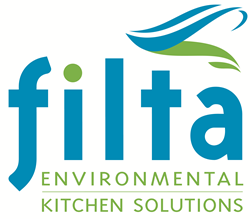 "If all commercial kitchens would start a professional fryer management program, we could at least alleviate two pain points for them: oil and labor costs while also giving them consistent food quality and creating sustainability in their organization," said Tom Dunn.
ORLANDO, Fla. (PRWEB) April 29, 2021
The price of vegetable oil has more than doubled since the pandemic began, causing many commercial kitchens to take a hit on their profitability as well as scramble to find cooking oil for their fryers. Filta Environmental Kitchen Solutions (Filta) is watching a nationwide cooking oil shortage, somewhat reminiscent of the early pandemic toilet paper stockpiling, and the company can help commercial kitchens with its proprietary filtration and fryer management process, extending the life of oil by micro-filtering instead of dumping.
Filta, the world's restaurant kitchen and hospitality leader in active fryer management and environmental sustainability, helps commercial kitchens save labor costs when a Filta technician does the fryer oil work, rather than an employee. Additionally, Filta helps the environment by reducing packaging costs and recycling oil that has reached the end of its useful life, ensuring it is recycled into biodiesel.
According to the Food and Agriculture Organization of the United Nations (FAO), the price index for oilseeds rose for a ninth consecutive month, the price of soybean oil alone going from $.25 per pound in May 2020 to $.55 in March 2021. In a late March 2021 report, Reuters noted that edible oil (major vegetable oils like palm and soybean oil) prices worldwide are likely at their peak but will be slow to rebound to pre-pandemic rates because of production and supply chain interruptions, labor shortages, international tariffs and general pandemic pauses.
"Like everything else, our industry is at the mercy of supply and demand economics and we're seeing more and more reports of cooking oil shortages," said Tom Dunn, CEO of Filta. "We know that labor and oil costs are the main pain points for potential customers, yet we can offer immediate help with both. We work with kitchens to see how and what they cook and then put together a service program of micro-filtration and fryer management to extend the life of that increasingly expensive commodity, to get the maximum financial and environmental benefits. If you add in the labor savings when a trained Filta tech instead of an hourly employee works on the fryer, and you have an obvious win-win."
Consider this example to illustrate the potential savings. Before the pandemic shutdowns, clients paid about $20 for a 35-pound JIB (jug in box) of soybean oil. Considering an average client needed 12 JIBs to change three 50-pound fryers twice a week, the total weekly cost was $240. Now, 14 months later, that same client is paying $480/week for those 12 JIBs at $40 per. Add in the increased labor costs for hard-to-come-by hourly employees and this kitchen could be bearing an increase of over $12,000 per year.
If a kitchen could stretch the existing oil safely and reliably with micro-filtration, cutting just one dump cycle per week, it's easy to see how the Filta service can pay for itself. In addition to the cost benefit of reducing consumption, customers are given reports that show a measurable impact to the environment.
"We're all dealing with challenges and repercussions as the world emerges from the pandemic," Dunn added. "If all commercial kitchens would start a professional fryer management program, we could at least alleviate two pain points for them: oil and labor costs while also giving them consistent food quality and creating sustainability in their organization."
Filta makes commercial kitchens safer, more efficient and more environmentally sustainable by micro-filtering existing cooking oil, providing bin-free waste oil collection, deep cleaning fryers, and recycling waste oil. Customers range from single and chain restaurants to commercial kitchens inside casinos, hospitals, hotels, groceries, universities, business facilities, stadiums (NFL, NCAA, MLB, NHL), and more. The brand has expanded its kitchen services into humidity control for cold storage and grease-free drain foams, making it a recognized environmental leader in the restaurant and hospitality industry. Filta has recycled nearly 1 billion pounds of used cooking oil into biodiesel, significantly reducing the impact of fryer oil on the environment. For every gallon of biodiesel put into use, Filta prevents 16 pounds of carbon dioxide from entering the atmosphere.
About Filta Environmental Kitchen Solutions
Since its inception in 1996, Filta has positioned itself as the pioneering leader of active fryer management and environmental kitchen sustainability across the food and hospitality industries. Filta is the U.S. franchise system of United Kingdom-based Filta Group Holdings PLC (AIM: FLTA). The cornerstone of the company's offering is FiltaFry, the complete fryer management service incorporating on-site micro-filtration as well as the removal, recycling and replacement of cooking oil. Furthermore, the brand provides humidity control in cold storage devices through FiltaCool and prevents drain blockage through its grease-free drain foam brand FiltaDrain. Visit http://www.gofilta.com for more information and http://www.gofilta.com/franchise for franchise development opportunities.