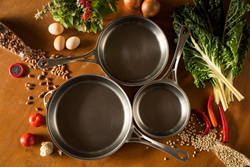 Our SOLIDteknics skillets and pans just get better with more cooking, just like seasoned cast iron, but our wrought iron pans are half the weight of cast iron.
CHICAGO (PRWEB) September 19, 2018
While SOLIDteknics USA's new 12" US-ION™ wrought iron skillet has already raised nearly $100,000 as its crowdfunding campaign enters its final days on Kickstarter – presales may increase as chefs and cooks move away from synthetic nonstick pans with health warnings being raised in the upcoming movie The Devil We Know.
"Our mission to replace synthetic and disposable cookware with new innovation in healthy, multi-century-durable lighter iron cookware really started about 10 years ago when I was researching cookware materials," said SOLIDteknics Founder Mark Henry. "I saw cooks were starting to understand the dangers, and they were looking for non-toxic cookware. That awareness really picked up momentum when over 200 scientists warned about synthetic pan coatings through their 2015 'Madrid Statement.'"
In the 2015 statement, scientists from 38 countries warned about the dangers of PFAS chemicals used in manufacturing synthetic nonstick pans and other coated products, including 'modern convenience' products such as waterproof and spill-resistant coatings, takeaway food container coatings and nonstick cookware. The Madrid Statement cited data that links exposures to PFASs with certain cancers, delayed puberty, decreased fertility, reduced immune response in children and elevated cholesterol, among other health problems.
The issues related to PFASs are highlighted in the new movie The Devil We Know, which relates the history of the first class-action lawsuit taken by a Virginia town against a company for exposing residents to the chemical. According to the movie's website, as many as 110 million Americans may be drinking water tainted with PFAS chemicals -- with exposure to this class of chemicals becoming a global phenomenon spreading to other countries including Italy, the Netherlands and China.
"Seasoned iron might not be quite as nonstick as the synthetic coatings, but when it is well-seasoned it is close, and it is all-natural, non-toxic, and forever renewable," Henry said. "Our SOLIDteknics skillets and pans just get better with more cooking, just like seasoned cast iron, but our wrought iron pans are half the weight of cast iron. They will also last for centuries with a little care and are not disposable every few years like the synthetic nonsticks – making them more sustainable, which is something we care deeply about."
SOLIDteknics products are not cast, but wrought into shape through a new patented process – offering chefs half the weight of traditional cast iron while they season/cook with the same benefits. The cookware is the first to come with a multi-century warranty, since the tough wrought iron will never crack like cast iron – and there are no rivets or joints to fail over time.
US-ION™ skillets are not only half the weight of regular cast-iron skillets, but being wrought iron also means the skillets are more conductive than cast iron, and also feature all the same healthy seasoning and cooking benefits as cast iron – without the arm strain.
SOLIDteknics' wrought iron skillets offer many benefits over other pans when cooking:

Stainless steel is light, but too sticky for most types of frying.
Enamel cast iron really sticks when it's worn, and it's heavy.
Popular bare cast iron skillets cook great, and the natural seasoned nonstick you build yourself is non-toxic, but the pans are still heavy. Recent machined lighter cast iron pans are still relatively heavy, and susceptible to cracking.
French carbon steel pans are lighter, but come with rivets, and rivets mean gunk and eventually wobbly handles.
Ceramic coatings last about a year, then it's another pan in the landfill.
Also, any skillets with screws get jiggly – and cheap, carbon-steel woks inevitably fall apart. To eliminate that problem, the SOLIDteknics team developed a three-step method of forming a wrought pan from a single iron sheet, patented the method and started manufacturing AUS-ION skillets in Australia three years ago.
The cookware quickly became popular with top chefs and home cooks and, with so much interest from American cooks, the company found a way to make the same pans in Chicago – using the same specification of iron used in Australia with the same patented method.
The current campaign for a larger US-ION Skillet follows SOLIDteknics previous successful Kickstarter campaigns for its 7.5" and 10" US-ION™ skillets, which raised more than $311,000 from crowdfunders.
For more information and to pre-order the skillet at an early-bird discount during crowdfunding, visit the 12-inch SOLIDteknics US-ION Campaign Page on Kickstarter. Limited 'First Edition' engraved US-ION™ 12" Skillets are still available for $89 and 'Try Me' 7.5" Skillets are $59 – significantly less than the recommended retail prices…..but not for long: the Kickstarter launch campaign ends within days.