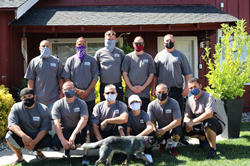 "Now, with the understanding that even more Americans may be looking to move homes during the Coronavirus pandemic, we are making sure that our health and safety protocols remain firmly in place to continue to help these individuals who need to get their belongings safely from one place to another."
SAN FRANCISCO (PRWEB) September 29, 2020
According to an article in Builder Online, which reports findings from an America at Home Study, American consumers ages 25 to 74 with household incomes of $50,000-plus are more motivated to buy a home sooner due to the COVID-19 pandemic. The article went on to say that "across all age groups, 4% of homeowner respondents say COVID has accelerated their plans to move." While the COVID-19 pandemic continues to affect the lives of Americans across the country, OCD Moving Services has announced it will continue to extend its health and safety protocols as Americans plan to move homes during this season.
"This season is one of our busiest times of the year for home and office movies," said Daniel England, owner of OCD Moving Services. "Now, with the understanding that even more Americans may be looking to move homes during the Coronavirus pandemic, we are making sure that our health and safety protocols remain firmly in place to continue to help these individuals who need to get their belongings safely from one place to another."
The professional movers at OCD Moving Services have always held their health and safety measures to the highest standard. However, in light of the COVID-19 pandemic, the company recently announced that it would increase its health and safety protocols to ensure they are keeping their employees and their customers safe. Since the spring when the COVID-19 pandemic started to spread across the country, OCD Moving Services increased health and safety measures, including:

Sending employees home when they are sick, and making sure every staff member does a temperature check before starting the work day.
Ensuring all employees are wearing proper gloves and face coverings before, during and after moves, and at all times when they are handling company equipment or customer's belongings.
Ensuring that company equipment, including moving trucks, are properly cleaned before and after every move.
Providing coverings for home items including mattresses, TVs and more to ensure they are transported in a clean, health and safe way.
OCD Moving Services announces that it will continue to keep these measures in place for the foreseeable future. Additionally, the company will also continue to provide its junk removal service for customers who wish to dispose of items in an environmentally friendly way prior to their move. Studies have shown that one of the best ways to prepare for a move is by disposing of items that are no longer needed or working. The less goods that one brings into their new home, the less chance of germs of bacteria that can spread into the new home. Whether its appliances, electronics or large furniture items, OCD Moving Services is able to ensure the proper and environmentally friendly disposal of unwanted or unneeded items.
OCD Moving Services is also still offering complete packing services for clients who would like an all-in-one moving service. The moving professionals ensure that all items will be handled in a safe and sanitary way. In addition to home moving services, OCD Moving Services is also available to help business owners looking to move offices during the COVID-19 pandemic.
As the report shows that across all age groups, 4% of homeowner respondents said that the COVID-19 pandemic has accelerated their plans to move, OCD Moving Services ensures that they are here to help individuals with all of their local and long-distance moving needs.
For more information, and to request a free quote, visit mover website or call 510-375-3844.