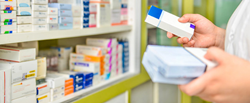 Pharmacies typically operate as a 'just-in-time' inventory business. This means they rely on continual shipments of drugs to fill their on-demand pharmacy orders. A disruption anywhere among the supply chain could pose severe threats," Treff says
GAINESVILLE, Ga. (PRWEB) May 11, 2020
As COVID-19 began to spread across the world, U.S. consumers left store shelves all but barren in rushing to stock up on essentials while—at the same time—the supply chain was still struggling to catch up with demand. It did not take long until ventilators, personal protective equipment (PPE), and other lifesaving medical resources were also in short supply. The World Health Organization estimates that manufacturing of PPE alone must increase by 40% worldwide in order to meet current and future demands.(1) According to a tenured veteran of the pharmacy benefit manager (PBM) industry and president of one of MC-Rx's lines of business, Steve Treff, industry experts and society alike worry that the next wave of supply chain shortages could target prescription medications.
"Pharmacies typically operate as a 'just-in-time' inventory business," Treff says. "This means they rely on continual shipments of drugs to fill their on-demand pharmacy orders. A disruption anywhere among the supply chain could pose severe threats."
According to experts at John Hopkins University, the prescription drug supply chain is vulnerable even without a pandemic looming, as the industry is so dependent on international suppliers like China—a key provider of the raw materials used to make prescription drugs—and India, which is a major producer of generic drugs.(2) As early as February, the FDA had already reported the first drug shortage caused by the COVID-19 outbreak.(3) On top of pharmaceutical industry experts, society is plagued by fears of how the international supply chain will affect medications—with 30% of Americans concerned about drug shortages.(4) The novel coronavirus has brought to light weaknesses in this supply chain process, and now it is up to industry experts to examine those vulnerabilities, execute necessary changes, and prepare for how to move forward.
Limitations on refills were lifted as part of many state governors' emergency orders to help ensure patients maintained access to critical medications resulting pharmacies seeing increases in patients requesting to extend 30-day prescriptions to 90 days.(5) Even though stakeholders said they had been able to meet these requests (as of early April), many predict it to only be "a matter of time" before the supply chain begins to crumble under panic-induced pressures.(6)
One precaution MC-Rx put into practice very early on during the crisis to ensure its 6+ million members in the U.S. and Puerto Rico would be able to get necessary medications was to closely monitor such requests. "We decided to provide our clients' members with a month's supply of their prescription out of our mail service pharmacies instead of three months so that there would be enough supply in stock for everyone over time," Treff says. "Prescriptions were refilled in a timely manner to alleviate member concerns and this also helped control the finances of our clients to make sure they weren't getting hit with higher bills during the financial downturn. Nearly two months in, we judge this strategy to be successful in helping our clients financially, ensuring our patients received their medications, allowed for patient outreach compliance programs, and reduced our risk of drug shortages."
Other measures have and continue to be implemented in efforts to limit the damage to the supply chain. Social distancing and shelter-in-place guidelines have led to more mail medication deliveries, with many companies—like MC-Rx—even offering free shipping. And while the trucking sector has been hit particularly hard due to a lack of drivers caused by the closures of critical entities like DMVs and driver training schools, innovation is paving the way for new delivery options—such as with drones set to transport prescription medications to over 135,000 residents home to the largest retirement community in the U.S.(7) But there are still many improvements to be made in order to plan for both the now and future implications of supply chain interruptions.
"There are many different complex components to the pharmaceutical supply chain," Treff says, "and when one of them is disrupted, it has repercussions for the rest. But the federal government, state pharmacy organizations, pharmacy chains, and pharmacy benefit management companies are taking steps to make sure that people will be able to get the medication they need in the future. So far, drug shortages in the most common critical disease states—diabetes, high blood pressure, COPD and asthma—have not been reported although might have occurred at individual pharmacies."
About MC-Rx
MC-Rx is a full-service pharmacy benefit manager (PBM), with corporate offices in Gainesville, Georgia and Caguas, Puerto Rico, focusing on transparency, best-in-class service, and offering clients "lowest net cost" pricing. MC-Rx was formed by combining two URAC-certified, world class PBMs—ProCare Pharmacy Benefit Manager and mc-21. The ProCare companies were founded in 1988 with the vision of providing innovative computer software systems and services to various sectors of the healthcare industry. ProCare processed their first pharmacy claim in 1994 using their proprietary, internally developed and managed systems, and expanded in 1998 to full-service pharmacy benefit management through the acquisition of NextGen PBM. Today, the ProCare companies also include two affiliated mail-order and specialty pharmacies, ProCare PharmacyCare, and are one of only four PBM providers that own all of their component systems. MC-Rx now provides comprehensive, industry-leading service to clients in Puerto Rico and the U.S. For more information, visit http://www.mc-rx.com.
1. Chaib, Fadela. "Shortage of personal protective equipment endangering health workers worldwide" World Health Organization Newsroom, Marcy 3, 2020, who.int/news-room/detail/03-03-2020-shortage-of-personal-protective-equipment-endangering-health-workers-worldwide
2. Volkin, Samuel. "How has COVID-19 impacted supply chains around the world?" John Hopkins University HUB, April 6, 2020, hub.jhu.edu/2020/04/06/goker-aydin-global-supply-chain/
3. Hahn, Stephen M., M.D. "Coronavirus (COVID-10) Supply Chain Update" FDA Statement, February 27,2020, fda.gov/news-events/press-announcements/coronavirus-covid-19-supply-chain-update
4. Blank, Christine. "Survey: Americans Worried About COVID-19 Drug Shortages." Drug Topics, 30 Apr. 2020, drugtopics.com/latest/survey-americans-worried-about-covid-19-drug-shortages.
5. COVID-19: Information from the States (April 27 2020). Natnal Alliance of State Pharmacy Associations. naspa.us/resource/covid-19-information-from-the-states/.
6. McCook, Alison. "COVID-19: 90-Day Refills May Strain Supply Chain." Specialty Pharmacy Continuum, 8 Apr. 2020, specialtypharmacycontinuum.com/Covid-19/Article/04-20/COVID-19-90-Day-Refills-May-Strain-Supply-Chain/57779.
7. Scripps National. "UPS, CVS Will Use Drones to Deliver Medication to Nation's Largest Retirement Community." WPIX, 28 Apr. 2020, pix11.com/news/national/coronavirus/ups-cvs-will-use-drones-to-deliver-medication-to-nations-largest-retirement-community.
# # #