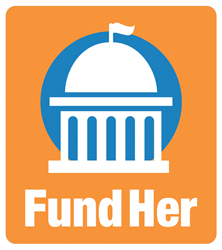 Imagine a day when girls walk into the halls of history and see portraits of the many women leaders who came before them. --Valerie McGinty, Fund Her founder
LOS ANGELES (PRWEB) October 18, 2018
Art and politics will mix on Saturday, October 20th, at the TAG Gallery when Fund Her and its supporters gather to advance their goal of gender equity in California politics.
The event will feature the works of artist Elyse Wyman, who will donate 25 percent of art sale proceeds to Fund Her.
Event Details:
Saturday, October 20, 2018
2pm—4pm
The TAG Gallery
5458 Wilshire Blvd., Los Angeles, CA 90036
Speakers:

CA Assemblymember Eloise Gómez Reyes, District 47
CA Senator Vanessa Delgado, District 32
Molly Watson, Courage Campaign
Event Hosts Laura Soloff-Geller, Sandra Fluke and Elyse Wyman are also scheduled to speak.
Fund Her is supporting 14 progressive women candidates for state office in the upcoming election. Currently women comprise just 25 percent of the California Legislature.
Fund Her founder Valerie McGinty says, "The stakes could not be higher in this election, in California and across the nation. From the election of an unrepentant misogynist President to the confirmation of Brett Kavanaugh, one thing is clear: going to the Women's March and flipping Congress is not enough because the problem is not just political – it's cultural. Until we put women in the halls of power, the indignities will continue. And where can women be installed in those halls of power with the greatest speed and impact? California, with the world's fifth largest economy, and the state that invents the future—a future where women lead alongside men."
This event will feature some of the women working to make a cultural shift. Sandra Fluke is no stranger to bullying at the hands of powerful men. In 2012 the women's rights activist was targeted by Rush Limbaugh who tried to shame Fluke on his radio show. Senator Vanessa Delgado is one of the first women Fund Her helped elect; she replaced a male legislator who resigned following allegations of sexual harassment. Assembly member Eloise Gómez Reyes recently authored AB 1870, the Stop Harassment and Reporting Extension (SHARE) Act, one of the foundational pieces of legislation around the #MeToo movement in California. As a member on the Subcommittee on Sexual Harassment Prevention and Response, she also helped shape new guidelines for the Legislature.
Fund Her's support has dramatically increased since the Kavanaugh vote. Attendance doubled at its most recent events in San Francisco. The political action committee raised $41,000 in a single day.
Supporters come from all walks of life, including the art world.
Elyse Wyman says, "My art explores the interrelationships and dynamics of female identity, self-perception, personal worth, sexuality and power. Just as I support the 'Me Too' and 'Time's Up' movements, I am passionate about gender equity across the board. That includes politics."
About Fund Her
The political action committee was founded in 2017. Its goal is to achieve gender equity in the California Statehouse within 10 years. Fund Her provides the missing piece: financial support to ensure progressive, accomplished women are well-positioned to win. Four of California's newest state legislators are progressive women who were supported by Fund Her. The group had eleven candidates on the ballot in California's June primary and ten of those are on the ballot again in the upcoming general election. That's a 91 percent success rate.
http://www.fundher.org/
This message is paid for by Fund Her (FPPC ID #1398107) and not authorized or coordinated with any candidate or controlled committee. Contributions to Fund Her are not tax-deductible for federal income purposes.
Media Inquiries:
Suzanne Spurgeon
spurgeon@womenmediapros.com
323-899-3883
On site contact person:
Adina Brin
Chief of Staff, Fund Her
949-375-4165