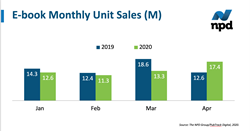 With brick-and-mortar retail bookstores shut down in the U.S. this spring, the e-book format became more popular during the COVID-19 crisis
PORT WASHINGTON, N.Y. (PRWEB) July 21, 2020
Year-over-year e-book sales in the United States declined by 5 percent, with 55 million units sold through April 2020. However, unit sales in April 2020—the first full month of COVID quarantine—rose by nearly one-third (31 percent) compared to March 2020. All major categories experienced e-book growth in April 2020, compared to previous month, with adult fiction posting the largest unit gain of 1.8 million units, according to The NPD Group (http://www.npd.com).
Traditionally published e-book sales volume, tracked by NPD PubTrack Digital, declined 6 percent in the first half of the year. However, looking only at the month of April— the first full month of COVID-19 lockdowns in the U.S.—e-books were up 31 percent compared to March, selling 4.2 million more units.
"With brick-and-mortar retail bookstores shut down in the U.S. this spring, the e-book format became more popular during the COVID-19 crisis," said Kristen McLean, books industry analyst for NPD. "They're easy to purchase, can be read instantly after being downloaded, and eliminate any concerns over infection or availability."
Adult titles
Sales growth for adult e-books was led by general fiction, which rose 23 percent in April compared to March according to NPD BookScan. The leading general fiction title in April was "Little Fires Everywhere," by Celeste Ng, propelled by the popularity of the Hulu adaption released in March 2020. The romance category posted 22 percent growth in April compared to March, led by "First Comes Scandal," by Julia Quinn.
Adult non-fiction title unit sales grew 37 percent in April compared to March 2020. Categories with the highest growth included biography and memoir, which rose 40 percent in April, led by the April 2020 Oprah Book Club selection, "Hidden Valley Road," by Robert Kolker. Cooking posted the second-highest unit growth, rising 96 percent in unit sales in April compared to previous month.
Children and young adults
Children's e-books declined 12 percent over the first half of the year, with 5.1 million units sold. However, children's fiction grew 78 percent in April over the previous month, as children's non-fiction grew 39 percent. General fiction experienced highest unit growth in April, up 72 percent versus March, driven by top growth titles like, "The Bad Seed," by Jory John, and the "Pete the Cat" series, by Dean James.
Young adult e-book sales grew 10 percent over to 2019, driven largely by double-digit increase in fiction sales. The science fiction category enjoyed the highest unit-sales gain, led by "The Hunger Games," by Suzanne Collins, and "The Hobbit," by J.R.R. Tolkien.
###
About NPD BookScan
NPD BookScan is the gold standard in point-of-sale tracking for the publishing market, covering approximately 85 percent of all the print books sold in the U.S. through direct reporting from all major retailers including Amazon, Barnes & Noble, Walmart, Target, independent bookstores, and many others. Each sale of the more than 13 million units tracked on a weekly basis includes geographic information making it possible to identify key markets, map regional sales trends, and index the likelihood of purchase in 200 major metro areas. NPD BookScan is also the exclusive provider of ALR data for Barnes & Noble, Target, Walmart, and Sam's Club to U.S. publishers.
NPD PubTrack Digital offers a comprehensive view of today's digital book market. Featuring information from more than 450 participants, including small, medium, and large U.S. publishers, this service provides unprecedented access to the top 80 percent of the traditionally published e-book market.
About The NPD Group, Inc.
NPD is the leading global provider of market information and business solutions covering brick-and-mortar, e-commerce, and emerging channels in more than 20 industries. We combine our unique data assets with analytic solutions to help our clients measure performance, predict trends, and improve results, advising them to help drive successful growth. Practice areas include apparel, appliances, automotive, beauty, books, consumer electronics, e-commerce, entertainment, fashion accessories, food consumption, foodservice, footwear, home, juvenile products, mobile, office supplies, retail, sports, technology, toys, games, and watches / jewelry. For more information, visit npd.com and npdgroupblog.com. Follow us on Twitter: @npdgroup @npdbooks.