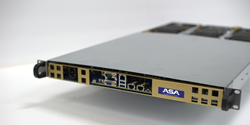 FREMONT, Calif. (PRWEB) July 08, 2020
ASA Computers Inc is excited to announce the release of new offering of servers for Immersion Cooling. ASA's Triton is the first high-density server built specifically for Immersion Cooling. It is not just a bare-bone design with fans removed. Starting with the meticulous engineering of its chassis, manufactured in the USA, then onto high-end componentry - CPU, Memory, NVME SSD, GPUs; The Triton server is a custom designed, custom manufactured, ultra-dense computing machine with 6 GPUs in a single 1U node.
Often associated with high-density servers is the excessive heat generation and excessive cooling expense. Since Triton was engineered for Immersion cooling, the additional heat is a non-factor due to the effective cooling properties of the tank fluid that has a larger cooling surface area than conventional air-cooled datacenters. The operating temperatures are regulated within a specific range allowing for components and the overall system to perform in optimal conditions.
ASA TRITON Features & Benefits

Multi-GPU (x6) optimized thermal designs for highest performance and reliability.
Advanced GPU interconnect options for best efficiency and lowest latency.
Leading GPU architectures based on NVIDIA GPUs and NVMe SSDs.
Dedicated full x16 Bandwidth by taking advantage of the AMD Rome processor with 128 x PCI-e x16 lanes.
Optimized for: AI / Deep Learning, Virtual Desktop, Scientific Research, 3D Rendering Farm, Blockchain and HPC workloads.
For more information, please visit https://www.asacomputers.com/triton.html.
This server is available now and is being Beta tested in the field.
About ASA Computers
Founded in 1989, ASA Computers is based in Fremont, California and is privately held. ASA Computers is a recognized leader in server products with solutions for Enterprise systems, Storage, HPC, Machine Learning and Artificial Intelligence. ASA has been manufacturing server equipment in the Silicon Valley for over three decades.
For more information, please visit http://www.asacomputers.com
on Twitter (@asacomputers)
on LinkedIn (@asacomputers)
on Facebook (@asacomputers)
You can also write to us at sales@asacomputers.com or call us at +1 (650) 230-8000.