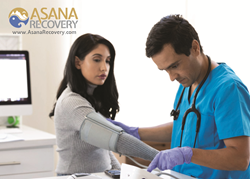 This accreditation is more than just an award, it allows us to serve an even wider population of individuals in need, as more insurance companies are demanding higher, consistent, and evidence based results from the treatment industry. -Adam Shandrow, COO
COSTA MESA, Calif. (PRWEB) November 04, 2019
Asana Recovery has earned The Joint Commission's Gold Seal of Approval® for Behavioral Health Care Accreditation Program by demonstrating continuous compliance with its performance standards. The Joint Commission (JC) Gold Seal is a symbol of quality that reflects a health care organization's commitment to providing safe and quality patient care. While this is the first time Asana Recovery earned a JC accreditation, it was awarded for three years versus only one year. The accreditation was approved for all levels of care.
For the accreditation process, Asana Recovery underwent a rigorous, unannounced onsite review of the facilities and its services. During the visit, a team of Joint Commission reviewers evaluated compliance standards spanning several areas that are integral to providing addiction and treatment recovery services to patients.
"I was surprised at the size and complexity of the Joint Commission accreditation and survey process and was extremely pleased that our staff delivered the results to earn us our first Joint Commission accreditation," said Adam Shandrow, coo of Asana Recovery. "This accreditation is more than just an award, it allows us to serve an even wider population of individuals in need, as more insurance companies are demanding higher, consistent, and evidence based results from the treatment industry. Since opening our doors two years ago, it was always our goal to be leaders and provide exceptional care in addiction treatment."
The Joint Commission is one of the most prestigious, and rigorous accreditation organizations in the country. A majority of state governments recognize its accreditation as a condition of licensure, and it accredits more than 22,000 health care organizations nationwide. The Joint Commission's standards are developed in consultation with health care experts, providers, and patients. These standards are established to help health care organizations measure, assess and improve performance. The surveyors during the accreditation process conduct onsite observations and interviews.
Since opening in 2017, Southern California based Asana Recovery, has offered unique and innovative ways to treat the disease of addiction. Harnessing the efficacy of traditional, evidenced-based methods, while incorporating alternative techniques, Asana Recovery offers services for the full spectrum and phases of addiction recovery. While in treatment, patients experience a life-skills approach that immerses the individual in a community or family setting to ensure that the transition back to sober living is a smooth and seamless process. It provides 24/7 supervised support with round-the-clock staff onsite, which is critical for the detox phase.
About Asana Recovery
Asana Recovery is a private, for-profit, health care organization located in Costa Mesa, California. Asana Recovery provides a complete and individualized addiction treatment program using traditional as well as innovative or alternative methods to treat addiction. It provides 24/7 supervised support with round-the-clock staff onsite. Its mission is to provide a healing environment where patients acknowledge and understand their addiction, embrace a lifestyle of productivity, and find the fulfillment that comes in serving others. Asana Recovery is accredited by The Joint Commission, ASAM Level of Care certified, CARF accredited, and licensed by the Department of Health Care Services (DHCS) in California. More information about Asana Recovery can be found online at http://www.asanarecovery.com