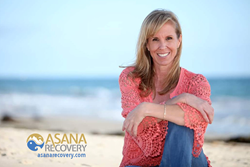 "I am excited to find a way to use my background and passion for mental health to increase awareness about Asana Recovery's treatment programs," says Ms. Brown. "I believe that treatment is key to mental health, and tackling unresolved trauma is the first step to recovery."
COSTA MESA, Calif. (PRWEB) June 22, 2020
Asana Recovery recently appointed Tanya Brown as clinical outreach coordinator and will be part of the business development team. In this role, Ms. Brown will be responsible for identifying, securing, developing, and maintaining referral relationships with professionals in the addiction and behavioral health industries. With over two decades of experience as a speaker, as well as author and advocate of mental health, she will develop lectures and presentations that highlight the importance of mental health, treatment, and recovery.
Tanya Brown is no stranger to the adversity of trauma. The loss of her sister, Nicole Brown Simpson, more than 20 years ago was a personal and family tragedy that topped national and international headlines. She has faced overwhelming life challenges, which served as the force to ultimately improve the quality of her life. She has become a nationally recognized author, speaker and life coach who uses the lessons from her experience to help others cope with life's challenges.
"I am excited to find a way to use my background and passion for mental health to increase awareness about Asana Recovery's treatment programs," says Ms. Brown. "I believe that treatment is key to mental health, and tackling unresolved trauma is the first step to recovery."
Ms. Brown is the author of "Finding Peace Amid the Chaos" and "The Seven Characters of Abuse". She holds a master's degree in Counseling Psychology.
Asana Recovery offers unique and innovative ways to treat the disease of addiction. Harnessing the efficacy of traditional, evidenced-based methods, while incorporating alternative techniques, the "Asana Way" incorporates a full-spectrum of services to treat clients for each and every phase of addiction recovery. For more information about Asana Recovery treatment programs, visit http://www.AsanaRecovery.com
About Asana Recovery
Asana Recovery is a private, for-profit, health care organization located in Costa Mesa, California. Asana Recovery provides a complete and individualized addiction treatment program using traditional as well as innovative or alternative methods to treat addiction. It provides 24/7 supervised support with round-the-clock staff onsite. Its mission is to provide a healing environment where clients acknowledge and understand their addiction, embrace a lifestyle of productivity, and find the fulfillment that comes in serving others. Asana Recovery is accredited by The Joint Commission, ASAM Level of Care certified, CARF accredited, and licensed by the Department of Health Care Services (DHCS) in California. More information about Asana Recovery can be found online at http://www.asanarecovery.com.