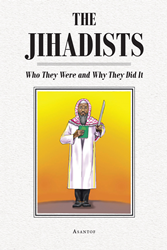 MEADVILLE, Pa. (PRWEB) July 27, 2020
"The Jihadists: Who They Were and Why They Did It": a compelling narrative that accounts the events that revolve around the Jihadists, their reason for their actions, their true objectives, and other things that involve the two separate religions. "The Jihadists: Who They Were and Why They Did It" is the creation of published author Asantof, an excellent writer of amazing creations.
Asantof shares, "The biblical 'holy war'—what is holy war in the Old Testament? Holy war was a particular kind of warfare in a particular time in Israel's history where God fights fights for Israel to secure his land for his peoples that his redemptive plan might come to pass (Deut. 2:34, 7:3–5, 20:16–18; Josh. 6, 11:12–20; 1 Samuel 15), as compared to the Jihad in Islam as an ongoing war or struggle in the name of God, which does not match the Old Testament holy war. The Old Testament does not present a religious military strategy for Israel to fight for God. God does not need military help. God fighting for Israel was spiritually driven at that point in time.
"As a copycat, Prophet Muhammad instituted this in the Quran as godly to fight the infidels and subdue them to God. Gone were the days when people were conquered and captured in wars as idol worshippers by the Prophet Muhammad and his raiders and indoctrinated them into Islam. These wars were fought in a particular time and are neither to be continued by any religious organization as a justification for any people in the present world.
"I was born into Christianity, but I grew up in a predominantly Muslim neighborhood, where we all mingled and did things together. Muslim friends are invited to Christian churches in festive days like Christmas and Easter days for jollifications, and Muslim friends recompensed by requesting their neighbors to Ramadan festivals periodically with no infringement. I loved to stand by the Muslim pray grounds, the mosques, and listen to the chants and hymns or mood music, and they are revivifying and outlandish, and you could feel that the worship of God is enjoyable. But what disturbs me most of all is the personal characteristics of the Muslim men to marry Christian women frequently, but the Muslims make it hard for a Christian man to marry a Muslim woman. The Christian man must denounced his Christian faith, take a Muslim name, and must be economically sound or have status in the community. These uneven-handed marriage did not rest well with those affected. They grumbled, but they did not complain or worry to a bitter end. For a Christian grumbling is superficial and leaves no indelible mark on his brain or character for his eternal salvation and is impervious to his sanity. Some Muslims use intimidation and violence to kidnap the women they want as the Muslims in Darfur in southern Sudan, and the Bokor Harem are kidnapping young school girls. My elder brother, a British-trained barrister, married a Muslim woman, and they have four children. Though he converted to Islam, after some years he reconverted to Christianity again because of some texts he came across in the Quran at variance with the Christian Bible in the New Testament that talks about atonement, amendment, compromise, and forgiveness. All of these are those that the radical Muslims are in opposition to and adhere to relentlessly.
"This and the Jihad bother me also, and I talk to my Muslim friends that we all should pray for a reformation to take place. I was horrified and disturbed to witness and also heard the horrible things certain Muslims are doing to their own people and make them refugees in other countries. The radical Muslims are doing this havoc to non-Muslims around the world in the name of Allah. It appears to be a turmoil of a religious revolution of a political undertone. A political obedience and not of God's with a free thought.
"Osama and his henchmen used intimidation and the amusing to explain the eternal salvation and the Paradise. It is a revolution of political ideology visualized to rule the entire world with Islam, the utopia envisioned of the old Islam against the new enlightenment. This was rooted in the ancient Islamic dogmas and established creeds. People who conduct jihads do not go to Paradise, but to hell. Paradise is for the pristine, and that the adamant followers of Jihad ideology must be mindful. Vengeance belongs to God, and redemption belongs to humans."
Published by Christian Faith Publishing, Asantof's new book is a potent read that gives the readers clarity through relevant knowledge that will widen their perspectives of the truths and history.
View a synopsis of "The Jihadists: Who They Were and Why They Did It" on YouTube.
Consumers can purchase "The Jihadists: Who They Were and Why They Did It" at traditional brick & mortar bookstores, or online at Amazon.com, Apple iTunes store, or Barnes and Noble.
For additional information or inquiries about "The Jihadists: Who They Were and Why They Did It," contact the Christian Faith Publishing media department at 866-554-0919.