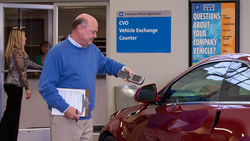 "We are constantly being asked to show inventory reports to management and customers. We know that we can easily do this with BarCloud and it makes our job easier."Eric Nico, Systems Engineer. Penske Vehicle Services.
AUSTIN, Texas (PRWEB) October 16, 2018
ASAP Systems, the market leader in Inventory System and Asset Tracking announces how its asset tracking solution has improved Penske Vehicle Service operations by effectively automating the tracking of their inventory anywhere, anytime.
Penske Vehicle Services is a wholly owned subsidiary of Penske Truck Leasing Co., a leading global transportation services provider. Penske Vehicle Service had grown significantly and needed to improve their inventory operations. It was necessary that the company has an Inventory System that supports mobile computing in order to track their inventory both inside and outside their plant. Our asset tracking solution easily met these challenges and solved the inventory issues Penske Vehicle Services was experiencing.
Penske Vehicle Services wanted to generate constant inventory reports as requested by the management and by their customers. Therefore, accurate data was necessary and the asset tracking solution provided the precision the company needed.
"We plan on growing with BarCloud and using it for our inside inventory. We have not started this project yet, but will be really soon," said Eric Nico, Systems Engineer at Penske Vehicle Services.
This Inventory Management will be able to adjust to serve any evolving needs in the future. The asset tracking solution assisted Penske Vehicle Service in configuring data collection fields, making the system fit their specific needs. ASAP Systems was able to save Penske Vehicle Service time and money through better visibility, accuracy and up to the minute control of their inventory.
About ASAP Systems
We solve the biggest problem in Inventory Management and Asset Tracking, which is everyone does it differently. Through many years of experience, working on a vast range of unique customer requirements, we have developed unmatched expertise in creating solutions to fit almost any budget, technical or user requirement. Our highly-configurable and scalable barcode-based tracking systems are designed to provide maximum ROI today, tomorrow and into the future. Offices in San Jose, California (headquarters) and Austin, Texas
Visit us at http://www.asapsystems.com/