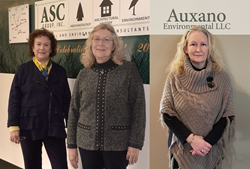 COLUMBUS, Ohio (PRWEB) February 11, 2021
Today, ASC Group, Inc. of Columbus, and Auxano Environmental LLC of Lebanon, Ohio, announced they have merged.
The combined companies will operate as ASC/Auxano in the Federal market and will continue to operate as ASC Group, Inc. in all other markets. Both markets will benefit significantly from single-sourcing in a variety of complimentary evaluation and consulting fields. ASC Group's acquisition of Auxano will maintain their certifications as a woman-owned business. The expansion positions ASC Group and ASC/Auxano to service the Continental United States (CONUS) for military contracts.
The merger has added Phase I and II ESA (RMR) to the ASC Group, Inc. ODOT Prequalification listings providing a complete list of all Environmental Services. The merger also adds capacity to ASC/Auxano in the Federal market adding cultural resource services to the Federal services line. ASC/Auxano will be positioned exceptionally well to provide unique expertise for Federal contracts as the new administration continues to focus on small business success.
"Auxano is known for tackling some of the hardest remediation evaluation and environmental risk assessments in the business. We've been partnered with them often on many of our contracts. We work well together. It makes perfect sense to team up and formalize our relationship. We'll have unmatched value in the regional market," said Shaune Skinner, President of ASC Group, Inc.
"We've collaborated with ASC Group on numerous projects over the years, and I highly respect their team's professionalism and depth of scope. I can't wait to see what we can do," said Nichole Lashley, founder of Auxano Environmental LLC. Lashley will continue with ASC/Auxano as Director of Federal Projects.
About Auxano
Founded in 2013, Auxano Environmental LLC is a certified small, disadvantaged woman-owned business with unique expertise in Phase II ESA (environmental site assessment) following the American Standard for Testing and Materials (ASTM). Auxano has received the small business environmental award from the SAME (Society of American Military Engineers) Kentuckiana Post in 2020, and Nichole Lashley will serve as the Post's Board President for 2022.
About ASC Group
ASC Group, Inc. is headquartered in Columbus, Ohio, with regional offices in Cleveland, Ohio, Indianapolis, Indiana, Florence, Kentucky, and Harrisburg, Pennsylvania. The company was founded in 1986 as Archeological Services Consultants, Inc. by Shaune Skinner and Elsie Immel-Blei. ASC are cultural and environmental consultants providing archeological, architectural history, and environmental services for Federal, state, and local clients primarily in an 11-state region of the Midwest. They are SBA (US Small Business Administration), WBENC (Women's Business Enterprise National Council), and FAA (Federal Aviation Administration) certified.