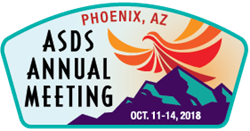 Mona Sadeghpour, MD, of SkinCare Physicians in Chestnut Hill, Massachusetts, is being recognized for her work, "Understanding delayed bruising after hyaluronic acid injections: Why the molecule and not just the injection matters."
ROLLING MEADOWS, Ill. (PRWEB) October 12, 2018
The American Society for Dermatologic Surgery (ASDS) is pleased to announce Mona Sadeghpour, MD, as the first recipient of the new Drs. Alastair and Jean D. Carruthers Award for the Top-Ranked ASDS Cosmetic Fellow Research Abstract. The award was presented at the 2018 ASDS Annual Meeting.
The award was created to stimulate interest and acknowledge cosmetic research contributions from Fellows of ASDS-accredited fellowship training programs. Dr. Sadeghpour of SkinCare Physicians in Chestnut Hill, Massachusetts, is being recognized for her work, "Understanding delayed bruising after hyaluronic acid injections: Why the molecule and not just the injection matters." She previously received a Fredric S. Brandt Research Grant from the Society and is a member of the ASDSA State Affairs Work Group.
"It is because of the Carruthers' innovative work, advocacy, curiosity and knowledge that both cosmetic dermatology and ASDS are where they are today," said ASDS President Murad Alam, MD, MBA. "Current and future dermatologic surgeons look to them as role models, and it is fitting that the research abstract award for fellows completing ASDS cosmetic dermatologic surgery fellowships be named in their honor."
Drs. Alastair and Jean Carruthers revolutionized cosmetic dermatology with their pioneering use of neurotoxins. In the decades since their discovery, the Carruthers have cultivated an active curiosity and tireless work ethic that has enabled them to continue to lead research efforts that have expanded our understanding of this and other cosmetic procedures. They have been advocates both for patients and physicians.
Apart from their gifts to medicine and dermatology, Drs. Jean and Alastair Carruthers have made exceptional, ongoing contributions to ASDS, ensuring its ability to train future leaders and to continue as a vibrant, well-respected professional society.
For more information, visit asds.net/Service-Awards-and-Competitions.
# # #
About the American Society for Dermatologic Surgery (ASDS)
The American Society for Dermatologic Surgery (ASDS) is the largest specialty organization exclusively representing dermatologic surgeons who have unique training and experience to treat the health, function and beauty of your skin. ASDS members are pioneers in the field. Many are involved in the clinical studies that bring popular treatments to revitalize skin and fill and diminish wrinkles to the forefront. Their work has helped create and enhance many of the devices that remove blemishes, hair and fat, and tighten skin. Dermatologic surgeons also are experts in skin cancer prevention, detection and treatment. As the incidence of skin cancer rises, dermatologic surgeons are committed to taking steps to minimize the life-threatening effects of this disease. For more information, visit asds.net.
Follow ASDS Skin MD on Facebook, Twitter and Instagram.
Locate a dermatologic surgeon in your area: asds.net/find