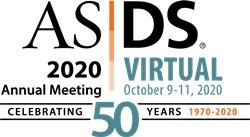 ROLLING MEADOWS, Ill. (PRWEB) October 12, 2020
The American Society for Dermatologic Surgery (ASDS) announced its annual award and grant recipients on Saturday during the first virtual Annual Membership Meeting.
President's Awards
As his final act as President, Marc Brown, MD, bestowed five President's Awards, which recognize individuals and organizations who have made significant contributions to the Society or whose work has advanced dermatologic surgery in a meaningful way.

Murad Alam, MD, MBA – Dr. Alam was recognized for his dedication to advancing the specialty and goals of ASDS and ASDSA. "His willingness to commit time and ideas to furthering our priorities in advocacy, research, fellowship training and a variety of key organization priorities is greatly appreciated. He epitomizes what it means to be an involved and committed member of ASDS," said Dr. Brown.
Vince Bertucci, MD, FRCPC – Dr. Bertucci received this award for his leadership and thoughtful contributions while serving on the Board of Directors, and for serving as the most recent Chair of the Leadership Development Work Group, a Future Leaders Network (FLN) mentor and as Co-director of the Advanced Injection Techniques Course. "All of these efforts have made a positive and meaningful impact on our members and the organization," said Dr. Brown.
Lawrence Field, MD – "On Oct. 2, we lost a dynamic force in our specialty with the passing of Dr. Field. He was a respected dermatologic surgeon and dedicated educator, serving as a bridge between many international arms of the specialty. He was a great supporter of ASDS and instrumental in the creation and growth of the International Traveling Mentorship Program (ITMP). This program spreads the ASDS mission across the globe, offering mentorship exchanges and hosting international mentees. His dedication and drive to grow the Society's global reach was recognized over the years. In 1997, Dr. Field was presented the Outstanding Achievement Award from ASDS. He received a President's Award in 2005, and I bestowed him with it again this year. His legacy and unwavering support of our Society and growth of our international reach will always be remembered," said Dr. Brown.
Thomas Rohrer, MD – Dr. Rohrer was recognized for his continued contributions to ASDS. "In particular, I am grateful for the opportunity he presented to partner with the American Society for Laser Medicine and Surgery (ASLMS) on reopening guidance for cosmetic practices, which resulted in a paper and webinar. These valuable member resources would not have been possible without his leadership and dedication to ASDS," said Dr. Brown. Through his long and continuous high-level involvement, Dr. Rohrer has helped to promote ASDS members and the organization both to the public and colleagues in dermatology and allied surgical specialties.
Allergan – This award was given to Allergan Aesthetics in recognition of its generosity, steadfast commitment to advancing the specialty and longstanding support of the goals of ASDS. Accepting on behalf of their organization was President Carrie Strom. "We have enjoyed and value our partnership and look forward to its continued growth and mutual satisfaction," said Dr. Brown.
Award for Outstanding Service – M. Laurin Council, MD
This award recognizes young, emerging leaders who have demonstrated commitment to the Society's growth and success. "Dr. Council is a valuable asset to our organization. In addition to her contribution on various work groups and FLN, she is a new Board member this year. She helped support this meeting as Annual Meeting Co-chair and will step into the Chair role next year. We appreciate your dedication and drive to help us all succeed," said Dr. Brown.
Vic Narurkar, MD, Innovations in Aesthetics Honorary Lectureship – Suzanne L. Kilmer, MD
This awarded lectureship was created in 2019 to honor Dr. Narurkar's many contributions and pioneering efforts to the field of aesthetic medicine. As a faculty member at Harvard, Dr. Kilmer researched the use of Q-switched lasers for treatment of tattoos and pigmented lesions and the rapidly pulsed CO2 lasers that are now popular for resurfacing. She was a principal investigator in the original trials for laser skin resurfacing, laser hair removal, pulsed dye and fractional lasers for wrinkles and scars, picosecond laser treatment of tattoos, cryolipolysis, tissue tightening devices and several filler studies.
Drs. Alastair and Jean Carruthers Award for Top-Ranked ASDS Cosmetic Fellow Research Abstract – Farah Moustafa, MD
This annual award was created in 2018 in honor of Drs. Alastair and Jean Carruthers to stimulate interest and acknowledge cosmetic research contributions from Fellows of ASDS-accredited fellowship training programs. It is presented to the highest scoring ASDS Annual Meeting abstract of which he/she is the first author, and Dr. Moustafa earned it for her abstract, "Ablative Fractional Laser Treatment of Hypertrophic Burn and Traumatic Scars, A Systematic Review of the Literature."
Cutting Edge Research Grant Program
This program was introduced in 1999 with the goal of uniting education and innovation to encourage clinical research and the transfer of new technologies into the surgical practice setting. It also supports Board-directed research including topics surrounding Mohs surgery for skin cancer and patient satisfaction. This year's recipients are Drs. Steven Barilla and Ashley Elsensohn.
Young Investigators Writing Competition – Ali MajdZadeh, MD
This award program stimulates interest of young investigators to submit original ideas, research and articles for publication in "Dermatologic Surgery." Dr. MajdZadeh received the award for his article, "Quantification of Erythema Associated With Continuous Versus Interrupted Nylon Sutures in Facial Surgery Repair: A Randomized Prospective Study," which was published in the June 2020 issue.
Review Article Incentive Program – Westley S. Mori, MD
This incentive program supports articles for "Dermatologic Surgery" that are critical evaluation of already published material on topics of broad scientific interest. Dr. Mori received the award for his article, "Mohs Micrographic Surgery at Challenging Anatomical Sites," which was published in a December 2019 Mohs Special Issue.
# # #
About the American Society for Dermatologic Surgery
The American Society for Dermatologic Surgery (ASDS) is the largest specialty organization exclusively representing dermatologic surgeons who have unique training and experience to treat the health, function and beauty of skin throughout every stage of life. ASDS members are recognized as leaders in the field of cosmetic and medically necessary skin surgery. They also are pioneers in the field; many are involved in the clinical studies that bring popular treatments to revitalize skin and fill and diminish wrinkles to the forefront. Their work has helped create and enhance many of the devices that remove blemishes, hair and fat, and tighten skin. Dermatologic surgeons also are experts in skin cancer prevention, detection and treatment. As the incidence of skin cancer rises, dermatologic surgeons are committed to taking steps to minimize the life-threatening effects of this disease. For more information, visit http://asds.net.
Follow ASDS Members on Facebook, Twitter and Instagram.
Locate a dermatologic surgeon in your area: http://asds.net/find