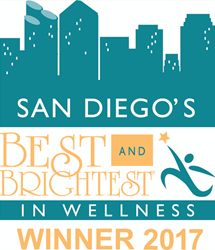 "American Specialty Health has long been a leader and key provider of wellness solutions to employers and health plans across the nation, so winning this award is especially gratifying for us. -Julie Jennings, Executive Vice President, ASH
San Diego, CA (PRWEB) March 22, 2017
The National Association for Business Resources (NABR) has recently named American Specialty Health Inc. as one of San Diego's Best and Brightest in Wellness® companies for 2017.
American Specialty Health (ASH) was honored for its innovative healthcare strategies and its model use of best practices in wellness for its employees. ASH is one of only nine other San Diego companies being recognized by the NABR for displaying a commitment to quality and excellence in health awareness and promoting a culture of wellness that helps to make their business and the community a healthier place to live and work.
"American Specialty Health has long been a leader and key provider of wellness solutions to employers and health plans across the nation, so winning this award is especially gratifying for us," said Julie Jennings, executive vice president of ASH, and president and COO of Healthyroads. "Helping employees focus on their wellbeing, stay fit and be active is a key part of our culture and contributes to our overall success as a company."
Healthyroads is one of the nation's largest health management programs, covering more than 5 million group employees and health plan members.
"The Best and Brightest Program prides itself on conducting a thorough evaluation of companies nominated," said Jennifer Kluge, President and CEO, National Association for Business Resources. "The program has a ten to one ratio of companies that apply for the award. The process is threefold: nominees are vetted by our NABR research team; those identified as potentials are contacted; and employer survey data is then scored, weighted and ranked. The criteria is determined annually based on market conditions and trends and applied throughout the country. We are proud to honor this year's winners."
About the Best and Brightest In Wellness
The Best and Brightest in Wellness® celebrates those companies that are making their businesses healthy, the lives of their employees better, and are making the community a healthier place to live. The Best and Brightest program provides yearlong education, benchmarking, assessment tools and interaction amongst the best employers throughout the United States.
About American Specialty Health
American Specialty Health Incorporated (ASH) is one of the nation's premier independent and privately owned specialty health services organizations, providing physical medicine provider networks and administration, fitness center networks and exercise programs, and health management solutions for health plans, insurance carriers, and employer groups. ASH contracts with more than 140 health plans nationally and administers programs for more than 43 million members. Operating from offices in San Diego, Calif., Southlake (Dallas), Texas, Carmel (Indianapolis), Ind., and Columbia, S.C., ASH has more than 1,300 employees. Additional products offered through ASH and its subsidiaries include Healthyroads®, FitnessCoach®, and others. For more information about ASH, visit http://www.ashcompanies.com or call 800-848-3555. Follow us on LinkedIn or Twitter at @ASHCompanies.
###