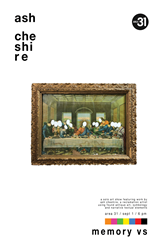 FREDERICK, Md. (PRWEB) August 06, 2018
Multidisciplinary artist Ash Cheshire announces today that their newest series "MEMORY VS" will be showcased as a solo art exhibition at the Area 31 in Frederick, MD. Ash Cheshire is a regional artist who is known for their reclamation of found antique works of art. Area 31 will display Cheshire's work for a solo show on Saturday, September 1st, 2018, from 6pm to 9pm.
Area 31 is a creative studio space; a film studio, gallery, arthouse theater and event space located in downtown Frederick. Area 31 is located at 31 E Patrick St, Frederick, MD 21701. Tel. (240) 397-6539.
About Artist Ash Cheshire:
Ash Cheshire lives and works in Frederick, MD. Working in many different disciplines, Cheshire is known for their band Cheshi and for being a founding member of She/They, a regional multidisciplinary artist collective featuring womxn, femme, trans, and non binary artists. Ash Cheshire can be followed on instagram at @ash.cheshi. They can also be reached at ashlicheshire(at)gmail.com.