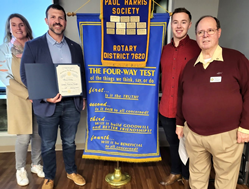 "I look forward to using my skills and experiences to make a meaningful difference in our community and beyond." - Brian Ashby, Ashby Tours & Adventures
URBANA, Md. (PRWEB) February 21, 2023
The Rotary Club of Southern Frederick is pleased to announce the addition of Mr. Brian Ashby to its membership. Brian, a Virginia native and resident of Urbana for four years, is a graduate of the University of Virginia and the owner of Ashby Tours & Adventures.
As a husband and father of two, Brian is committed to his family and community. His passion for volunteering and helping others led him to join the United Way and the Boys and Girls Clubs in Virginia, where he developed a diverse skill set and gained valuable experience working with people from varied backgrounds.
Now, Brian is eager to become more connected with his community through the Rotary Club of Southern Frederick. As a friendly, outgoing, and charismatic person, he is excited to contribute his energy, enthusiasm, and expertise to the club's ongoing efforts to make a positive impact on the world.
"I am honored to join the Rotary Club of Southern Frederick and to have the opportunity to work alongside such a dedicated and compassionate group of people," said Brian. "I look forward to using my skills and experiences to make a meaningful difference in our community and beyond."
The Rotary Club of Southern Frederick is thrilled to welcome Brian to its membership and looks forward to the many contributions he will make to the club and the community at large. With his diverse background, strong work ethic, and commitment to service, Brian is sure to be a valuable asset to the club and its mission of service above self.
About the Rotary Club of Southern Frederick:
The Rotary Club of Southern Frederick is a service organization dedicated to serving the local community through various initiatives and programs. The club is part of Rotary International, a global network of 1.2 million neighbors, friends, leaders, and problem-solvers who see a world where people unite and take action to create lasting change – across the globe, in our communities, and in ourselves.