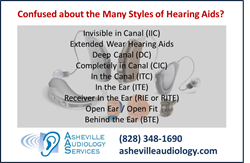 Asheville, NC (PRWEB) October 22, 2013
The many different types of hearing aids and the numerous different acronyms used to refer to them make it challenging for novice buyers to perform research.To remove some of the frustration, Asheville Audiology Services posted a quick reference list of common hearing aid types and vocabulary on their site titled Hearing Aid Model and Style List – Exactly What Do All Of The Abbreviations Mean?
The guide is presented in order from smallest to largest and includes the subsequent primary hearing aid types: Invisible in Canal (IIC), Completely in Canal (CIC), In the Canal (ITC). In the Ear (ITE), Receiver In the Ear (RIE or RITE) and Behind the Ear (BTE).
When all the hearing aid styles are shown alongside each other, it's easy to understand the reason why shoppers have difficultly differentiating them. Several of the names and acronyms are extremely similar. Despite the very similar names, these hearing aid types differ in important ways. It's the purpose of the quick reference guide written by Asheville Audiology Services to point out these essential differences. Once buyers understand the primary styles of hearing aids, the Audiologists at Asheville Audiology Services encourage making an appointment with a hearing care professional. The expert can suggest specific types and designs in line with the results of your hearing test and some lifestyle questions about where you plan to use your hearing aid and the sorts of hobbies you routinely participate in.
About Dr. Cynthia B. Earle
Dr. Cynthia B. Earle has been a practicing audiologist in Asheville since 1981. She is a Magna Cum Laude graduate from the University of North Carolina at Greensboro, earning her B.A. in Speech Pathology and Audiology in 1977. She received her Master of Speech-Language Pathology and Master of Audiology from the University of South Carolina. In 2000 she earned her Doctor of Audiology (Au.D.) degree from the Arizona School of Health Sciences. In addition to all standard audiological services, Dr. Earle is qualified to fit Bone Anchored Hearing Aids (BAHA) and advise patients about Cochlear Implants.
Dr. Cynthia Earle is past president of the Audiological Resource Association and was awarded "Audiologist of the Year" in 1998. She was appointed by the governor of North Carolina to serve on the state licensing board for Speech Language Pathology and Audiology. Cynthia is available to speak to your small group and Audiology associations. She currently lectures at State and National events and serves as a clinical site for hearing aid research.
About Asheville Audiology Services
Asheville Audiology Services (AAS) is an Audiology practice. Our aim is to heighten and preserve your hearing. We can help with various types of noise protection and real ear measurements of musical equipment. If you have existing hearing loss, we can help you with the latest hearing aid technology; including; hearing aid screenings, preventive care advice and hearing aid accessories. Asheville Audiology is your local western North Carolina provider of hearing aids and accessories.
Contact:
Dr. Cynthia Earle
http://www.ashevilleaudiology.com
Asheville Audiology Services
900 Hendersonville Rd. Suite 105
Asheville, NC 28803
(828) 348-1690