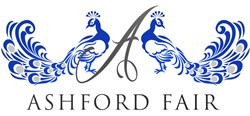 Louisville, KY (PRWEB) November 27, 2013
Ashford Fair, an online home décor shopping company based in Louisville, Kentucky, proudly announces the launch of their new ecommerce website that allows shoppers to browse and purchase from their hand-picked line of unique home accessories. The company's business model allows shoppers to shop from a very select line of home accessories at heavily discounted rates, with new fairs available on a weekly basis, and with the majority of items being one of a kind. The weekly fair shopping model launches a freshly curated line of new, vintage and antique sale items on every Tuesday, with a preview announcement emailed early to the company's exclusive members.
Ashford Fair's teams of curators use a wide range of sources to select items for each week's unique fair, with most items available in very limited quantities. Many antique and vintage items are one of a kind treasures, unavailable anywhere else. Ashford Fair offers these items at unbeatable discounts of up to 80% off retail pricing.
The company offers exclusive memberships to their shoppers at no charge simply by signing up for a free account on the website. Exclusive member benefits include sneak peek previews of the upcoming week's sale items, special discounts, offers, promotions, and additional sales.
For their custom ecommerce website design, Ashford Fair worked with Louisville web design firm Logic Media to develop a custom ecommerce shopping cart system that would allow them full control and ownership of the website, satisfy their business model of weekly fairs, expirations, and promotions, all while providing a flawless user experience to shoppers with Ashford Fair's online store.
About Ashford Fair
Ashford Fair is a Louisville, Kentucky based online retailer offering shoppers a selection of exquisite and unique home décor and accessories at unbeatable discount pricing with up to 80% off retail prices. The company's weekly fair sale model announces a fresh, curated set of both new and vintage items every Tuesday.
http://www.ashforfair.com