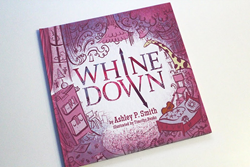 SAN MARCOS, Calif. (PRWEB) October 19, 2018
First time author and mom of three, Ashley P. Smith, has released her first book, Whine Down. This cheeky children's-style book for adults shows the realities of mom life. Whine Down humorously captures the hiccups in every woman's parenting journey, and how to find time for self-care in the middle of chaos.
A former medical device sales representative, Smith has become a motivational speaker, encouraging and inspiring moms across the globe. Whine Down is about more than a book: Smith wants to create a global movement.
"The basis for Whine Down came from a 2 am rant I typed on my phone while nursing my son," Smith said. "I shared the rant with a few of my mom friends, and it really took off. I realized I wasn't alone, and that other moms were having the same struggles."
From that 2 am rant came the beginnings of the Whine Down book. Smith is using the book as a platform to spread her message.
"I want to create a movement and awareness for mom self-care," Smith said. "Motherhood can be so overwhelming. We're hard-wired to be givers, doers, and nurturers. Whine Down is helping women embrace the art of selfishness, and making more time for themselves."
Smith's goal is to help mothers across the world find 20 minutes a day for positivity, self-love, and kindness.
Whine Down can be purchased on Smith's website at http://www.whinedowntime.com or Amazon.
Whine Down Time LLC is a lifestyle movement company aiming to transform the conversation around motherhood and self-care.