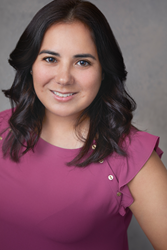 FORT WORTH, Texas (PRWEB) December 10, 2020
First American Payment Systems, an industry-leading payment technology company, is pleased to announce the promotion of Ashley Rangel to Vice President, Business Operations Support. In this newly created role, Rangel oversees the support teams for the company's government and nonprofit subsidiaries, as well as various operational departments within First American.
In her most recent position as Director of Business Operations, Rangel was instrumental in creating processes to drive efficiency, managing productivity and cultivating relationships with both internal and external customers.
"Ashley's industry knowledge continues to be a valuable asset to the organization and her work ethic is second to none. We are thrilled to recognize her contributions with this promotion and look forward to her continued success," Michael Bradford, VP of Operations.
Rangel joined First American in 2003 as a Loss Prevention analyst and has earned roles of progressive management responsibility, supporting the Credit Department, Application Care Team, Risk Management and, most recently, the ACH team. Ashley holds a Bachelor of Arts degree in Business Administration and Management from the University of Texas at Arlington.
###
About First American Payment Systems – Technology Driven Payments
First American Payment Systems, L.P., headquartered in Fort Worth, Texas, is a global payment technology company providing leading integrated payment solutions to more than 164,000 merchants throughout the Americas and Europe. First American provides partner and merchant payment solutions that include a robust set of in-store, online and mobile payment solutions paired with the latest in payment security, across a wide range of verticals. Backed by award-winning customer service, merchants and partners have access to our U.S. based Customer Call Center 24/7/365. For more information, visit http://www.first-american.net.