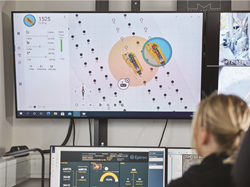 "This expansion of the Mobius platform brings drilling into the Mobius eco-system of autonomous mining solutions, and will allow increased integration of both data solutions and various autonomous mining operations." – Drew Larsen, Director of Business Development for ASI Mining
MENDON, Utah (PRWEB) January 19, 2022
Mendon Utah - ASI Mining LLC is expanding its Mobius® autonomy platform to include Mobius for Drills application in collaboration with Epiroc Drilling Solutions LLC. Similar to ASI Mining's Mobius for Haulage and Mobius for Blasting programs, Mobius for Drills further expands ASI's Mobius Traffic Management platform to now include integration of drills.
The application for drills allows the conversion of drill data into useful, actionable information and will enable increased connectivity potential between autonomous drills and other autonomous applications from ASI Mining including autonomous haulage (Mobius for Haulage) and situational awareness for operator-controlled vehicles (Mobius for Manned Vehicles).
"This expansion of the Mobius platform brings drilling into the Mobius eco-system of autonomous mining solutions, and will allow increased integration of both data solutions and various autonomous mining operations." notes Drew Larsen, Director of Business Development for ASI Mining. "We are excited about this logical extension of the Mobius platform to open up additional value propositions for our customers".
The user-friendly Mobius system enables multi-vehicle command, control and monitoring to maximize productivity and safety. Mobius imports drill plans, monitors drilling, and creates the reports over a secure system on site or remotely. It supports manual operations, teleoperation, semi- and fully autonomous modes and covers applications from drill and blast through autonomous haulage systems. Mobius is designed to help mines leverage the power of autonomous vehicle navigation and traffic management. Additionally, Mobius establishes a new pathway for better creation and utilization of operational data to increase productivity.
For further information about Mobius for Drills, refer to ASI Mining website at https://www.asirobots.com/mining or contact Jared Saunders, ASI Mining media contact.
About ASI Mining / ASI:
ASI Mining is partially owned by Epiroc, which acquired 34% of the company in 2018. ASI Mining is recognized for its products and solutions in robotics and autonomous vehicle technology including autonomous haulage, semi-autonomous blasting, drilling, dozing, loading and other applications. In addition to providing solutions for some of the world's largest mining corporations, ASI Mining is also an automation partner for several global mining vehicle manufacturers. ASI Mining's majority parent (66% shareholder), Autonomous Solutions, Inc. (ASI) is a world leader in industrial vehicle automation. ASI serves clients across the world in the mining, agriculture, automotive, government, and manufacturing industries with remote control, teleoperation, and fully automated solutions from its headquarters and 100-acre proving ground in northern Utah. Learn more at https://www.asirobots.com.