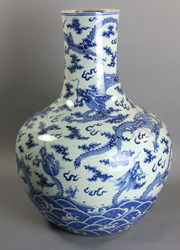 "Kaminski's Asian specialist, Bob Yang has put together an excellent selection of fine Chinese porcelains for this sale from several prominent Chinese collectors.
BEVERLY, Mass. (PRWEB) April 26, 2019
The April Sale at Kaminski Auctions kicks off with over 300 lots of Chinese porcelains, bronzes, and an important 3rd or 4th century Gandhara Buddha on Saturday morning, followed by a selection of furniture and furnishings from Palm Beach, Fort Lauderdale, and other estates. Sunday will feature the estate of Christine Vining, a longtime North Shore, Massachusetts resident, and respected dealer. Christine founded and ran the Peabody Essex Museum Antique Show for 37 years.
Kaminski's Asian specialist, Bob Yang has put together an excellent selection of fine Chinese porcelains for this sale from several prominent Chinese collectors.
A Chinese blue and white porcelain vase purchased in 1980 from the French dealer Asiantiques in Winter Park, Florida is the highlight of the sale. It is decorated with nine Imperial dragons having five claws, in nine different positions. It is exactly like the stone carving on the slope outside 'The Forbidden City' in Peking, China. It stands 21 inches high and is 16 inches in diameter with the Qianlong seal, and hails from a Fairfield, Connecticut collection.
An elegantly proportioned 18th-century vase with rounded shoulders rising from an elongated tapering base hails from a private Newport, Rhode Island collection. It's hexagonal raised neck and flared mouth is covered with a lustrous crackle-suffused red glaze that thins to a peach tone. A second vase with a Jun-Yao red glaze, is decorated with lotus patterns and flowering branches enclosed by ruyi borders. It measures 15 3/4 inches tall and, the base is inscribed with a six-character Qianlong mark. Both are valued at $8,000-$12,000.
Of particular interest is a bottle-shaped vase with a globular body rising to a cylindrical neck. This unique vase was acquired in Geneva, Switzerland in 1986 and is from the estate of Robert Ledford, of Charlotte, North Carolina. This piece was masterfully painted with an asymmetric design of two peach branches growing halfway around the vase, and the neck. One gnarled branch is colored with brown bark and pink blossoms, the other with dark grey bark with white flowers edged in pink. Nine peaches are depicted in different stages of ripeness and range in color from light yellowish green to a rose-pink. Inscribed with a six-character reign mark of Qianlong, and measuring 21 inches high, it is estimated to bring between $8,000 and $12,000.
Also, from the estate of Robert Ledford, Charlotte, North Carolina is an 18th-century globular water pot covered in a pinkish-purple glaze with the Yongzheng reign mark, measuring 4 ¼ inches tall, and another 18th-century vase with a globular body and repeating lotus scrolls, ruyi headbands and Yongzheng reign mark, also 4 ¼ inches tall. Both were also acquired in Geneva, Switzerland in 1986. An identical porcelain vase sold as Lot 1810, March 2nd, 2019 at Christie's, in New York.
An important Gandhara stone Buddha from the 3rd or 4th century discovered in a Fort Lauderdale estate is another highlight of the Asian sale. Measuring 25 inches high by 17 inches wide, it is estimated to bring $40,000-$70,000. There is also a Sui Dynasty carved stone Buddha, measuring 30 inches tall from the same estate.
Japanese entries include a decorative pair of 19th-century life-size bronze heron sculptures signed on the necks, standing 79 inches high. Following the 300 Asian lot session on Saturday morning, high-end furniture and furnishings from several Florida estates are featured.
Sunday opens with the estate of the late Christine Vining Smith, a longtime North Shore, Massachusetts resident, and respected dealer. After pursuing a career in the fine arts, she started her own antique business and exhibited at some of the most prominent antique shows in the country. Christine founded and ran the Peabody Essex Museum Antique Show for 37 years. The Crossman family were a renowned equestrian family from Danvers, Massachusetts and many of the items in the collection are of an equestrian or polo theme.
Art in the auction includes many excellent works by noteworthy European and American painters. Of particular interest, are two surrealist paintings by Gertrude Abercrombie (1909-1977), and a signed folk art painting of tempera on cardboard, by Outsider artist Bill Traylor (1854-1947.) A Bill Traylor folk art painting recently brought the second highest price achieved, and a new record for the artist at the Christie's Outsider sale in New York. The piece titled "Woman Pointing at Man with Cane" was from the William Louis-Dreyfus collection and sold for $396,500 to a collector in the room.
American art continues with two forest scenes from Arthur Fitzwilliam Tait (1819-1905) from a private Scottsdale, Arizona collection, a snowy cliff landscape, by William Stanley Haseltine, and a mountain landscape by Albert Biershadt (1889- 1975.) Marine scenes by Colin Campbell Cooper (1856 - 1937), Anthony Thieme (1888-1954), Louis Comfort Tiffany, and William Wendt, nudes by Alexander Brunet and George Benjamin Luks and two seascapes by Thomas Moran (1837-1926) round out the American art on offer.
European and Russian painting highlights include a French street scene by Albert Marquet (1875-1947), from a Palm Springs, California collection, a nude by Vasily (Wilhelm) Alexandrovich Kotarbinsky, a watercolor on paper signed Konstantin Andreevich Somov, and paintings by the Russian artists Konstantin Ivanovich Gorbatov, Aleksei Vasilievich Von Hazen, and Ivan Fedorovich Choultse.
Additional items of interest include a suite of twelve signed lithographs in four colors from zinc plates by Francois Gilot (b. 1921), titled 'Sur La Pierre,' 'Suite des Lithographies' published in 1972. They are editioned 15/50 and printed on Japon paper. There is also a set of 'Shakespeare The Tempest,' Editions Andre Sauret, Monte Carlo, 1975, with fifty (50) original Marc Chagall lithographs, editioned 238/250, signed Marc Chagall. Both are from a North Reading, Massachusetts collection.
An Abraham Lincoln commission document signed as President with Simon Cameron as Secretary of War in 1861, with an embossed seal affixed, is valued at $4,000-$6,000.
Jewelry highlights include an 18k men's Patek Philippe Geneve wristwatch, having a Patek Philippe leather band, marked 18k and 5052, a 4 carat yellow gold diamond ring, with one round natural fancy yellow diamond of 3.39 carats, a Lady Diana-style golden gem quality Ceylon sapphire of 5.69 carats with 14 round brilliant cut diamonds and a triple strand South Sea pearl necklace with 14k yellow gold clasp. There is also an 18k yellow gold handmade bracelet with 36 round brilliant cut diamonds and 18 golden Ceylon sapphires.
Discriminating collectors of 18th and 19th-century antique sewing collectibles will not want to miss the collection of Ethel Shulam of Danvers, Massachusetts. A famous quiltmaker in her own right, Mrs. Shulam amassed an impressive array of exquisite sewing items.
Mrs. Shulam started sewing as a young girl. Repairing her dolls as a child led to a passion for sewing and quilt making. Eighty-four years later, she just wrapped up a solo show of over 41 handcrafted quilts at the Musculoskeletal Center Art Gallery in Peabody, Massachusetts. Mrs. Shulam took classes at the Museum of Fine Arts, Montserrat College of Art, and taught quilting classes across the North Shore for more than three decades.
Her collection includes boxes of carved bone, Anglo-Indian carvings, Chinese lacquer, and American Shaker boxes, as well as a circa 1875 Tunbridge ware rosewood box. Her collection also includes late 19th/early 20th century carved bone sewing items several with scrimshawed names. Rare needle cases, Georgian clamps, rare Lucets, Welsh Sheathes, Scottish Mauchline ware, pin cushions, thimbles and thimble cases, tape measures, darning eggs, thread and spool holders, thread holders, sterling implements, and more are on offer in this extensive collection.
The auction also offers a large collection of vintage dolls to include French bisque head fashion dolls, German Armand Marseilles, Simon & Helbig, and Grace Storey Putnam dolls, as well as two dollhouses by Albert Eaton and an extensive collection of handmade dollhouse furniture. A Steiff carousel, Steiff animals, an old paddle wheel toy boat and two vintage fire trucks are just some of the toy collectibles on offer in this spring sale.
Preview hours are Monday – Friday, April 22nd -26th, 2019, 10:00 AM- 5:00 PM and days of the auctions Saturday, and Sunday, April 27th and 28th, 2019 starting at 8:00 AM at the Kaminski Auctions gallery, 117 Elliott Street, RT. 62, Beverly, Massachusetts. Auction begins at 10:00 AM EST both days. For more information and to sign up to bid online go to http://www.kaminskiauctions.com