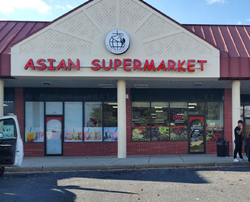 Mary Ford-Naill, Manager of Economic Development with The City of Frederick shares, "By expanding into the new space, the business was able to take advantage of the City's GROW Grant which supports critical building improvements that facilitate small business growth."
FREDERICK, Md. (PRWEB) December 05, 2022
Established in 2003, the Asian SuperMarket has recently expanded to a new location at Willowtree Plaza, Frederick, off the Golden Mile and is now open for business.
The Asian Supermarket will be holding a special grand opening celebration at this new store, located at 5 Willowdale Drive on Friday, December 9th at 11:30 a.m. Frederick City Mayor Michael O'Connor will be in attendance as will representatives from the City of Frederick's Department of Economic Development, Golden Mile Alliance, and other community members. The public is encouraged to join in the celebration.
"Our goal with this expansion is to continue to provide Frederick and our community members the true family Asian market experience within our new bigger and refined space! The most exciting thing about this project is not only seeing the community support but also being able to start new again and try to provide the best version of ourselves for the wonderful community," shared Rachel Bur, co-owner. She added, "the love we have received from the community in Frederick is what motivates us to continue to invest in Frederick. We enjoy the wonderful people and environment we have found ourselves in for the past 19 years and hope to continue for a long time within this community!"
The grocery store had previously operated for 19 years at the Patrick Street Center which is slated for future demolition and redevelopment. The family faced the challenge of finding a new retail location and getting fully operational in a short amount of time. Additionally, the ownership team incurred relocation and expenses for tenant improvements for the new store.
"Our economic development team at the city was able to assist the family by providing connections to resources to minimize some of the relocation expense," shared Mary Ford-Naill, Manager of Economic Development with The City of Frederick. "By expanding into the new space, the business was able to take advantage of the City's GROW Grant which supports critical building improvements that facilitate small business growth."
The new location, which is double in size at 3,000 SF, will allow for greater customer capacity and more inventory. The ownership team plans to expand its already broad range of products to include bubble tea and various Asian finger foods and pastries.
"A community legacy business, the family had operated out of the same location on West Patrick Street for nearly 20 years." Richard Griffin, Director of Economic Development at The City of Frederick shared, "we are thrilled that the business was able to secure a spot on the City's Golden Mile so that it can continue serving the area with specialty produce and groceries. The store is an incredible asset and testament to our community's diverse populations and palates."
The public is invited to join the celebration at this new Golden Mile location. For more details about the new location and the ribbon cutting event, call 301-846-4463.