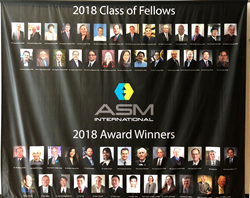 MATERIALS PARK, Ohio (PRWEB) October 23, 2018
ASM International annually recognizes awardees at its ASM Awards Banquet, which is being held this year in Columbus, OH on October 16, 2018. The ASM Awards Committee, comprised of ASM members, chooses the awards recipients. The ASM Board of Trustees then approves the selections and honors members for a variety of materials science achievements. ASM is proud to recognize our members for their outstanding work.
Please join ASM International in congratulating the following members for their achievements. Please visit our website for more information on the award winners and their pictures.

Honorary Membership | Dr. Jack G. Simon, FASM, President, Technology Access Incorporated
Distinguished Life Membership | Prof. Michael F. Ashby, Emeritus Professor of Materials, Engineering Design Centre, University of Cambridge; Board Chairman, Granta Design, LTD.
Gold Medal | Prof. Steven J. Zinkle, FASM, UTK/ORNL Governors' Chair Professor, Nuclear Engineering and Materials Science and Engineering Departments, University of Tennessee
Engineering Materials Achievement Award (EMAA) | Mr. Christopher Hahin, Engineer of Structural Materials & Bridge Investigations, Illinois Department of Transportation & Prof. Semyon Vaynman, Research Professor, Northwestern University
Albert Sauveur Achievement Award | Dr. S. Lee Semiatin, FASM, Air Force Research Laboratory, Materials and Manufacturing Directorate, Wright Patterson Air Force Base
William Hunt Eisenman Award | Mr. Louis W. Lherbier, FASM, Carpenter Powder Products, Retired, Carpenter Technologies
J. Willard Gibbs Phase Equilibria Award | Prof. John E. Morral, FASM, Emeritus Professor, The Ohio State University
Allan Ray Putnam Service Award | Mr. Keith A. Hill, Principal Metallurgist, Retired, Carpenter Technology Corporation
Albert Easton White Distinguished Teacher Award | Prof. Enrique V. Barrera, FASM, Professor, Materials Science and NanoEngineering, Rice University
Silver Medal Award | Dr. Brenda Garcia-Diaz, Manager, Energy Materials, Savannah River National Laboratory & Dr. Erik M. Mueller, Materials Research Engineer, National Transportation Safety Board
Bronze Medal Award | Dr. Amber N. Black, Research Scientist, Sigma Division, Los Alamos National Laboratory & Prof. Emmanuel De Moor, Assistant Professor, Metallurgical and Materials Engineering, Colorado School of Mines
Bradley Stoughton Award for Young Teachers | Prof. Josh Kacher, Assistant Professor, Georgia Institute of Technology
Henry Marion Howe Medal | Eric A. Lass, Mark R. Stoudt, Maureen E. Williams, Michael B. Katz, Lyle E. Levine, Thien Q. Phan, Thomas Gnäupel-Herold, & Daniel S. Ng
Marcus A. Grossmann Young Author Award | Haihui Zhang & Wanlin Wang
ASM Historical Landmark Designation | Materion Elmore, Ohio Plant
ASM Student Paper Contest | Eli Vandersluis
Emerging Professional Achievement Award | Jessica A. Clinton, Lead Welding Manufacturing Engineer, Baker Hughes General Electric
2018 ASM/TMS Distinguished Lectureship in Materials and Society | Dr. Lynnette D. Madsen, Program Director, National Science Foundation
2018 Edward DeMille Campbell Memorial Lecture | Professor Julie M. Schoenung, FASM, Professor, Materials Science & Engineering Program Department of Chemical Engineering and Materials Science University of California
About ASM International
ASM International connects materials professionals and their organizations to the resources necessary to provide professional development and to improve materials performance. As the world's largest and most established materials information society, ASM engages members through a global network of peers and provides access to trusted materials information through reference content and data, education courses, international events, and applied research.
To learn more about ASM International, visit asminternational.org or call 440.338.5151 to speak with an ASM International representative.