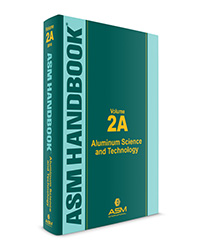 MATERIALS PARK, Ohio (PRWEB) October 25, 2018
ASM Handbook, Volume 2A: Aluminum Science and Technology is a valuable reference guide that gives readers insights and solutions on the factors that influence process selection, product quality, performance, and serviceability of aluminum products.
The handbook volume editors, Kevin Anderson, John Weritz, and J. Gilbert Kaufman, helped bring together leading innovators and practitioners in aluminum technology to contribute major updates on aluminum production and fabrication technologies.
Beginning with the classification and underlying physical metallurgy of aluminum alloys, this new handbook significantly expands coverage on the technologies of aluminum casting, metalworking, composite processing, heat treating, surface treatment, and joining. Updates address ongoing advances in high-integrity die castings, expanded coverage on surface treatment technologies, and contributions from experts in a wide variety of technological areas. New articles cover aluminum recycling, melt processing, solidification and castability of aluminum alloys, and much more. Important updates on brazing, extrusion, anodizing, welding, and shape casting are included.
ASM Handbook, Volume 2A: Aluminum Science and Technology ($297.00, $225.00 ASM Members, hardcover ISBN: 978-1-62708-158-0, eBook EISBN: 978-1-62708-159-7) is available on the ASM website or by calling the ASM International Service Center at 800.336.5152.
About ASM International
ASM International connects materials professionals and their organizations to the resources necessary to provide professional development and to improve materials performance. As the world's largest and most established materials information society, ASM engages members through a global network of peers and provides access to trusted materials information through reference content and data, education courses, international events, and applied research.
To learn more about ASM International, visit asminternational.org or call 440.338.5151 to speak with an ASM International representative.