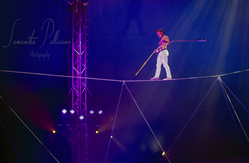 MATERIALS PARK, Ohio (PRWEB) October 10, 2019
Heat Treat 2019 Conference and Exposition, October 15-17, in Detroit, MI is the biennial show from the ASM International Heat Treating Society (ASM HTS), and considered the premier, can't-miss event for heat treating professionals in North America. Attendees will be able to visit and network with more than 200 companies from the heat treating industry. As an added bonus, attendees will once again have access to over 300 additional companies at Motion + Power Technology Expo (formerly Gear Expo).
Heat Treat will offer many opportunities for networking during the joint exhibitor welcome reception located in the expo hall. Attendees will have the opportunity to mix, mingle and build business relationships with key contacts across the heat treating industry. Be sure to look to the sky during this fun-filled event! Blake Wallenda, a seventh generation performer of the world renowned Wallenda family, will be walking the tightrope high above Hall D at the TCF Center Detroit. He is an acrobat, exotic animal trainer, daredevil, and most importantly a wire walker. Blake trained and apprenticed with multiple family acts before bringing his solo career to you today.
Heat Treat's comprehensive technical program will showcase the latest research and development on topics such as advancements in heat treating, advanced processes, quenching and cooling, processes and application, vacuum process and technology, and much more. Register for an ASM Education short course, taught by industry experts, these interactive learning experiences will help you stay up-to-date and competitive. This year's courses will include General Heat Treating, Intro to Gear and Bearing Materials, Basics of Non-Destructive Evaluation for Gears and Bearings, as well as a special joint course offered with AGMA, Materials Selection and Heat Treatment of Gears.
What's new in 2019? Fluxtrol will present three cash prizes during the Student Research Competition. The program seeks to encourage participation of young scientists in ASM HTS and to provide attractive offers and opportunities in the worldwide Thermal Processing community. Students were invited to submit an abstract and a poster and present their work during a special session at Heat Treat. The winner of the competition will be announced at the end of the session. Attend the Women in Engineering Networking Breakfast featuring a keynote presentation, "Don't Stop – Five Lessons I Have Learned, So You Don't Have To," by Stacey DelVecchio, Additive Manufacturing Product Manager from Caterpillar.
From the exhibitor networking reception to a special social event at the Waterview Loft at Port Detroit, attendees will have the opportunity to build business relationships and network with over 5,500 key contacts in the heat treating industry. This special evening will capture the heart of Detroit and the ASM Heat Treating Society with live music, a tempting array of Detroit inspired food, craft beer and a few "hot" surprises you won't want to miss!
For more information on Heat Treat 2019 and to register for the conference and exposition, please visit https://www.asminternational.org/web/heat-treat-2019.
About The ASM Heat Treating Society
HTS, an Affiliate Society of ASM International formed in 1994, is the world's largest network of heat treaters. HTS members work to provide events and services to serve their worldwide membership of captive and commercial heat treaters, equipment manufacturers, researchers, governments and technicians. HTS members have their own unique leadership and agenda to serve the global heat treating community, and are dedicated to: bringing heat treaters together to discuss heat treating challenges; providing the technical information, knowledge and education needed by all heat treaters; serving as a central clearinghouse for information of value to heat treaters; and interfacing with all organizations that serve heat treaters.
To learn more about HTS, visit https://www.asminternational.org/web/hts/home. Follow us on Facebook, LinkedIn, and Twitter.
About ASM International
ASM International is the world's largest and foremost professional technical society serving the information needs of scientists, engineers, and technicians who develop, test, select, and apply advanced materials, including metals, composites, polymers, and ceramics. As the world's largest and most established materials information society, ASM engages and connects members to a global network of peers and provides access to trusted materials information through reference content and data, education courses, international events, and applied research.
To learn more about ASM International, visit https://www.asminternational.org/ or call 440.338.5151 to speak with an ASM International representative. Follow us on Facebook, LinkedIn, and Twitter.