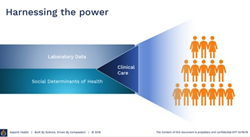 "This movement transforms the analytic results from a laboratory into actionable intelligence at the patient visit in partnership with front-liners and clinicians – allowing for identification of patient risks and arming providers with insights to guide therapeutic interventions."
SOUTH BURLINGTON, Vt. (PRWEB) May 22, 2019
Aspenti Health ™ was named the winner of the Clinical Lab 2.0 Innovation Award, honoring innovation excellence in the clinical laboratory industry. The award was presented before a prestigious panel of national clinical laboratory leaders by the Clinical Lab 2.0 Movement at the 24th Annual Executive War College Conference in New Orleans on May 2, 2019, the largest gathering of clinical laboratory executive leadership in the United States.
Aspenti Health was granted the award for their work in the field, "Integration of the Clinical Laboratory and Social Determinants of Health in the Management of Substance Use." This innovation presentation demonstrated Aspenti Health's commitment to the Clinical Lab 2.0 movement to re-engineer the role of the clinical laboratory in the continuum of care, aligning with the future of value-based healthcare. Clinical Lab 2.0, a Santa Fe Project Foundation initiative, outlined award requirements to meet the following Clinical Lab 2.0 attributes; Risk Stratification by Population, Closure of Care Gaps, Lab Results as Early Detection and Lab Intervention for Improved Clinical Outcomes.
According to the Center for Disease Control (CDC), social determinants of health (SDH) account for more than half of patient health and wellness. (1) For patients with substance use disorders, social determinants have a significant impact on their path to recovery. In collaboration, Aspenti Health, Staple Health and The University of Vermont Health Network, integrated routine medical laboratory testing with SDH to impact substance use care. Social determinants were assessed as predictors for laboratory findings, such as co-use of opioids and benzodiazepines. The project showed that where the laboratory result came from and the age of the patient were the two highest predictors of co-use in the substance use patient population. Through geospatial mapping, the project identified key geographic hotspots where co-use was more likely. Through predictive modeling, individual patient risk for co-use can be shared with providers to help empower providers in conversations to identify and mitigate patient risk at the point of care.
"This project, as well as all of the other cases that were presented, were quite strong and all were aligned with the mission of the Clinical Lab 2.0 Movement," said Khosrow R. Shotorbani, President, Executive Director, Projects Santa Fe Foundation. "This movement transforms the analytic results from a laboratory into actionable intelligence at the patient visit in partnership with front-liners and clinicians – allowing for identification of patient risks and arming providers with insights to guide therapeutic interventions. Further, it reduces the administrative burden on providers by collecting SDH predictors in advance and tying them to outcomes of interest. By bringing SDH predictors to the office visit, it enables providers to engage in SDH without relying on their own data collection - a current care gap in many practices. The lab becomes a catalyst helping to manage the population we serve."
The opioid epidemic continues to grip the United States. According to the CDC in 2017, there were more than 70,000 overdose deaths in the US, the highest number of drug overdose deaths for any single year in US history. (2) The CDC indicates that the increase in overdose deaths and a continued increase in suicides for the third year in a row has resulted in the recent decline in the US life expectancy. (3) And another first - for the first time in US History, according to the National Safety Association, overdose deaths exceed dying from a car crash. (4)
"We are thrilled to be recognized by Clinical Lab 2.0 and the panel of judges for our work serving the unique needs of substance use healthcare," said Chris Powell, CEO of Aspenti Health, "and most importantly across our organization our unyielding commitment to employ innovations to solve for this crisis."