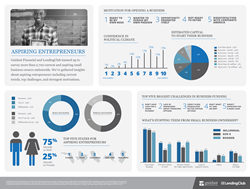 BELLEVUE, Wash. (PRWEB) April 08, 2019
A survey conducted by small business financing company Guidant Financial and online credit marketplace LendingClub Corporation (NYSE: LC) studied more than 2,700 aspiring small business owners across the nation to better understand who they are, and what's holding them back from pursuing their small business dreams.
The overall survey findings revealed that the largest segment of aspiring entrepreneurs are in their baby boomer years, and predominantly male. In fact, since last year, there is a reported 18 percent increase of boomer aspiring small business owners.
"Small business ownership is the backbone of the U.S. economy. It's exciting to see how the DNA of America's entrepreneur is shifting," said David Nilssen, CEO of Guidant Financial. "Conversely, it's important to know what prevents them from fulfilling their dreams, and in so many cases it's financing. Fortunately, there is more than one way to fund a business, and we here at Guidant, alongside our partners at LendingClub, are here to help thousands each year get the funding they need to open a business."
Who are Aspiring Entrepreneurs?
Seventy-five percent of aspiring entrepreneurs are men, while only a quarter are women, comparable to national averages. Generational breakdowns show a large gap between aspiring millennial male and female entrepreneurs, with 83 percent male and only 17 percent female. Meanwhile, 71 percent of Gen X aspiring small business owners are men, with 29 percent women. Seventy-four percent of aspiring boomer entrepreneurs are men and 26 percent are female.
Top Five States for Aspiring Entrepreneurs
1. Florida
2. Texas
3. California
4. New York
5. New Jersey
Shifting Confidence in Small Business Given the Political Climate
Aspiring entrepreneurs exhibited a modest decrease in confidence due to the political climate, demonstrated by a three-percentage point drop in respondents answering nine or 10 on a one to 10 scale (10 being the happiest). However, the average of confidence remains moderate to high, with male respondents averaging eight and female respondents averaging seven on the scale.
What Holds Back Aspiring Entrepreneurs?
An inability to find funding remains the most common roadblock stopping aspiring entrepreneurs from opening their businesses. However, there was a decrease to only 31 percent of small business owners citing a struggle to find funding for their business this year, compared to last year's number of 36 percent.
What Funding Challenges Do Aspiring Entrepreneurs Face?
Sixty-four percent of aspiring entrepreneurs estimate they need less than $50k to $175k of capital to start their businesses. Twenty-nine percent estimate they need between $175k to $500k, while only seven percent need $500k to more than $1 million.
While funding challenges vary in difficulty across age and gender lines, a dearth of cash, lacking knowledge of financing options, and problems with credit scores rank highly for most would-be small business owners.
See the accompanying report and infographic at https://www.guidantfinancial.com/small-business-trends/aspiring-entrepreneur-trends/
Methodology
Between November 6, 2018 and November 16, 2018, Guidant Financial and LendingClub conducted an email survey of more than 2,700 male and female small business owners and aspiring entrepreneurs from the continental U.S., Alaska, and Hawaii. Ages of respondents ranged from 18 to over 70.
About Guidant Financial
Headquartered in Bellevue, Wash. Guidant Financial helps business owners secure financing to start, buy or grow a business. An industry leader in business and franchise financing, Guidant works with new and existing entrepreneurs to identify, evaluate and deploy customized financing solutions. Their services include, but are not limited to, 401(k) business funding, SBA loans, unsecured credit, and portfolio loans. In total, Guidant has helped over 20,000 entrepreneurs in all 50 states to invest more than $4 billion in funds to start small businesses, resulting in more than 85,000 U.S. jobs created. Visit Guidant on the web at guidantfinancial.com.
About LendingClub
LendingClub was founded to transform the banking system to make credit more affordable and investing more rewarding. Today, LendingClub's online credit marketplace connects borrowers and investors to deliver more efficient and affordable access to credit. Through its technology platform, LendingClub is able to create cost efficiencies, and passes those savings on to borrowers in the form of lower rates and to investors in the form of potentially higher risk-adjusted returns. LendingClub is based in San Francisco, California. All loans are made by federally regulated issuing bank partners. More information is available at https://www.lendingclub.com