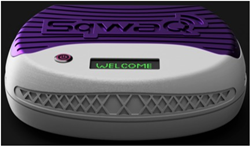 This will be a key solution to Assayer's Public Sector Connect program to save lives and transform industries.
DALLAS (PRWEB) January 28, 2020
Assayer, a Master Agent specializing in mobile and wireline telecommunications, announced today that it has signed a Channel Partner Distribution Agreement with SqwaQ. The partnership grants Assayer global distribution authorization for SqwaQ technology solutions, with particular emphasis on its new SqwaQbox mobile modem for Industrial IoT. The SqwaQbox is a patented, multi-redundant communications modem that aggregates the bandwidth of up to twelve individual 3G/4G/LTE cellular connections. It provides reliability, increased bandwidth and throughput for mobile and remote users who perform critical activities such as: drone operations, telemedicine sessions and remote oil and gas explorations.
"SqwaQ is an important addition to the Assayer solution portfolio. The low latency and robust performance will deliver new business outcomes for customers that were not possible before. It is very exciting when we discover new technology that can save lives and transform industries. This will be a key solution in our Public Sector Connect program, providing disruptive, bundled technology with a single contact and single bill," said Shane Harper, CEO of Assayer.
The partnership grants Assayer access to distribute SqwaQ technology and services through its network of over 10,000 partners, distributors and customers, as well as other solutions that stack on the SqwaQbox backbone like real time video streaming and live GPS tracking. The partnership is also expected to expand SqwaQ's downstream customer reach through Assayer's channel of partners and create collaborative opportunities whereby those partners may engage with other SqwaQ partners to create unique, bundled solutions for end users.
"SqwaQ is very enthusiastic about this new partnership with Assayer. Their knowledge of telecommunications and specialization in mobile connectivity fits perfectly with our technology and allows them to bundle customized solutions for customers. Our teams found synergy from the first meeting together and that enthusiasm has continued to grow toward penning this partnership agreement.", said Ted Lindsley, CEO of SqwaQ.
You can learn more at about the technology at http://www.sqwaq.com or contact either company to request demonstrations or purchases.
About Assayer
Assayer is a full-service business development master agent specializing in telecommunications. We focus on adding value for our customers and have exclusive access to several disruptive technologies that make our bundled solutions more attractive. Acting as a consultant to our clients and partners, we ensure our customer is getting the most practical, affordable, and complete solution possible. Assayer has a wide footprint in businesses of all sizes, offering dedicated care and technical support through the ordering, activation, and implementation processes.
About SqwaQ
SqwaQ is an SD-WAN and MVNO service provider focused on high value, mobile, Industrial IoT applications that demand multi-redundant, reliable connectivity like aviation, telemedicine, oil and gas, and commercial construction. The company has more than ten patents issued and pending on its multi-redundant 3G/4G/LTE/5G communications modem which is manufactered to rugged AS9100 (Aviation grade ISO:9000) and DO-160 standards, and can provision custom data services on over 600 cellular networks across 130 countries.