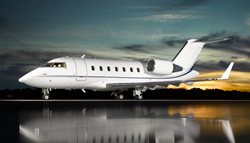 Assent's closing rate exceeds Eighty Percent (80%) for aircraft offered over $1MM
FORT WORTH, Texas (PRWEB) March 30, 2020
Assent Aeronautics will transition the Live Assent Private Aircraft Auction on April 30th at Jet Aviation, Dallas Love Field, to a new Live Online Digital Aircraft Auction on May 14th, 2020 to remain in lockstep with the recommendations of the Centers for Disease Control (CDC), federal, state and local regulations, and at the request of aircraft consignors and bidders alike. Jet Aviation, a General Dynamics Company, will be the presenting sponsor of the Inaugural Assent Live Virtual Auction on May14th, and will host both the November 19, 2020 and April 29, 2021 Live Assent Aeronautics Private Auctions at the freshly renovated Jet Aviation, Dallas Love Field Facility.
"As the world's first live and lux aircraft auction house, adding a virtual component to our capabilities has certainly been on the drawing board. COVID-19 is a crisis. We are focused on preserving life while still supporting our economy, our clients and our staff in these difficult times, by continuing to be The Market Maker for private aircraft," said Jake Banglesdorf, Vice President of Assent Aeronautics. "Frankly, bidders still want to bid, and sellers still want to sell, so we are accelerating our roll out of the live online bidding platform, so they can shake hands, albeit digitally, through Assent Aeronautics Aircraft Auctions."
The catalog for the auction will be released in the coming weeks, and will include Challengers, Citations and Beechcraft King Airs that are exclusively available through Assent, along with other aircraft as well. Assent's December Auction catalog featured slightly over $30MM in Business Aviation Aircraft, and Assent's closing rate exceeds Eighty Percent (80%) for aircraft offered over $1MM. Further Assent's virtual biding technology is powered by the same online bidding software that well-known automobile, real estate and fine art auction houses use in their digital platforms. Bidders will still be verified and approved by Assent. Consignors will not need to reposition their aircraft but will be required to allow for visual inspections and records reviews at their own facilities should a bidder make the request.
"Our nation's health and safety are, of course, everyone's primary concern at this difficult time. At Assent, we can assure you, those are our top priorities as we join with others in the industrial complex to lead, innovate and redouble our efforts to keep our economy alive and resilient," said W. Hulsey Smith, President and Chief Executive Officer of Assent Aeronautics. "If we all work together now, together we can come out of this crisis better on the other side."
To learn more about Assent Aeronautics please visit our website at http://www.AssentAero.com
ABOUT ASSENT AERONAUTICS
Assent Aeronautics is a family owned company, founded in 2004 and headquartered in Fort Worth, Texas. Assent Aeronautics' distinct business units include aircraft brokerage, aircraft transaction advisory consulting, aircraft management and aircraft maintenance. Able to trace the company's heritage back to a private family flight department established in the 1940s, Assent Aeronautics has a proven track record of success. After numerous requests from companies and individuals to manage their aircraft, Assent Aeronautics was founded to help aircraft owners and operators maximize dispatch reliability and safety while saving money through more efficient expense forecasting and full-time expert technical supervision. For more information visit http://www.assentaero.com
For more information please contact the Assent Aeronautics Media Relations Team:
Pollox Goodspeed, Media Relations. Email: PR@AssentAero.com Phone: 817-754-0560
For Broadcast Quality Footage:
Email PR@AssentAero.com
For Video Please See:
https://www.youtube.com/channel/UCVSG9YL60PzWggfOfRpFnyQ
For Business and Partner Contact please contact:
Email: JetSales@AssentAero.com Phone: 817-888-8227 http://www.AssentAero.com