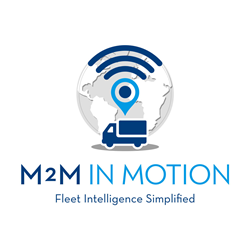 NEW YORK (PRWEB) September 05, 2019
Inc. magazine today revealed that M2M In Motion is No. 360 on its annual Inc. 5000 list, the most prestigious ranking of the nation's fastest-growing private companies. The list represents a unique look at the most successful companies within the American economy's most dynamic segment—its independent small businesses.
"Huge accomplishment for our team and proof that putting in the long hours and delivering on our vision to provide a great platform for our customers pays off. Our customers are the backbone of our success and they really deserve all the credit. They gave a small company a shot and we challenge ourselves to deliver on that commitment every day. We work for our customers and want to deliver the best product & customer support for them to run their business. We are not perfect, but we are learning & growing - we pick up the phone and we solve the problem. We will continue to stay humble and hungry for you.
Best part, this distinction lines right up with the release of our new platform FLEET MOTION coming next month which will provide even more data, with less clicks, to make our customers daily operations even easier.
Once again, thanks to all the people and partners who have helped us get here and all the ones yet to come. Call us, be part of the movement..." Co-founder & COO Sean Meister
Not only have the companies on the 2019 Inc. 5000 (which are listed online at Inc.com, with the top 500 companies featured in the September issue of Inc., available on newsstands August 20) been very competitive within their markets, but the list as a whole shows staggering growth compared with prior lists. The 2019 Inc. 5000 achieved an astounding three-year average growth of 454 percent, and a median rate of 157 percent. The Inc. 5000's aggregate revenue was $237.7 billion in 2018, accounting for 1,216,308 jobs over the past three years.
Complete results of the Inc. 5000, including company profiles and an interactive database that can be sorted by industry, region, and other criteria, can be found at http://www.inc.com/inc5000.
"The companies on this year's Inc. 5000 have followed so many different paths to success," says Inc. editor in chief James Ledbetter. "There's no single course you can follow or investment you can take that will guarantee this kind of spectacular growth. But what they have in common is persistence and seizing opportunities."
M2M In Motion is an AI driven fleet management platform that was designed with one person in mind, YOU.. the customer. While Fleet Motion has more functionality than most platforms you see out there today, we make the admin drive what data will be represented on the dashboard and throughout the platform using proprietary functions that are unique to Fleet Motion only. One single platform for all of your fleet and asset tracking needs.
Fleet Motion can be utilized as a simple asset tracking solution or can suit a complex IoT deployment with multiple assets, vehicles and sensors. It also encompasses a complex Dash Cam solution that will work with accompany our telematic devices which are being used for ELD.
Our sole purpose is providing our customers with an easy to use solution, at a fair price with exceptional customer service....
M2M In Motion
More about Inc. 5000 Methodology
The 2019 Inc. 5000 is ranked according to percentage revenue growth when comparing 2015 and 2018. To qualify, companies must have been founded and generating revenue by March 31, 2015. They had to be U.S.-based, privately held, for profit, and independent—not subsidiaries or divisions of other companies—as of December 31, 2018. (Since then, a number of companies on the list have gone public or been acquired.) The minimum revenue required for 2015 is $100,000; the minimum for 2018 is $2 million. As always, Inc. reserves the right to decline applicants for subjective reasons. Companies on the Inc. 500 are featured in Inc.'s September issue. They represent the top tier of the Inc. 5000, which can be found at http://www.inc.com/inc5000.
The Inc. 5000 is a list of the fastest-growing private companies in the nation. Started in 1982, this prestigious list has become the hallmark of entrepreneurial success.