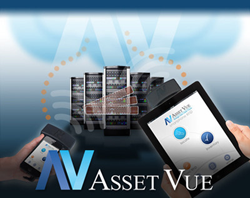 Asset Vue Mobile providesgreater flexibility and accessibility for clients to manage their critical assets anytime, anywhere.
PAOLI, Pa. (PRWEB) December 01, 2020
Asset Vue, a provider of RFID-enabled asset management solutions, today introduced the launch of their free mobile app, Asset Vue Mobile. This new app is compatible with iOS and Android devices. Integrating with Asset Vue Inventory, this app provides flexibility and portability while scanning and managing assets; whether you are scanning barcodes or RFID tags. To provide data center managers and other physical asset professionals with the ability to quickly see assets in real time and operational cost savings, Asset Vue is offering a limited time free trial to manage 100 assets using the Asset Vue Mobile app. Registration for the free trial can be done within the app, which is available now, and is free to download in the Google and Apple app stores.
Asset Vue Mobile App Features and Capabilities

Managing Inventory - Asset Vue will establish an account and access to the app on your mobile devices. From there, just access the app to view and manage your assets. Whether you access your account from a desktop or mobile device, you are looking at and managing the same set of asset inventory.
Scanning RFID Tags - Scanning RFID Tags is as easy as 1-2-3. After downloading our mobile app, pair your mobile device with your handheld RFID reader, and then scan your assets to see results on your mobile device in real time.
Scanning Barcodes - When scanning barcodes, use the camera in your phone to scan Asset Vue's barcodes. This is a portable way to scan your inventory without additional equipment beyond your mobile device.
Lifecycle Asset Management – Asset Vue Mobile allows you to manage your assets through their entire lifecycle from receipt to decommission and all stages in-between.
Remote Management and Reporting – Using our mobile app, you can review asset statuses and reporting in real-time. Have a boss ask you a status question in a meeting? Pull up your Asset Vue Mobile app, and you can give an answer on-demand.
"We are excited to provide new tools like Asset Vue Mobile to our customers," said Gary Aron, Co-CEO for
Asset Vue. "Through integration with our core Asset Vue Inventory software, Asset Vue Mobile provides
greater flexibility and accessibility for clients to manage their critical assets anytime, anywhere.
Want to learn more?

The Asset Vue Mobile app is free to download and available in both the Google and Apple app stores
Learn more our new mobile app on our website at https://www.assetvue.com/mobile-app
Watch an explainer video on how the Asset Vue ITAM system can help save time and money during your data center audits: http://bit.ly/18JlXFf
About Asset Vue
Asset Vue, LLC is a Paoli, Pennsylvania-based provider of RFID enabled asset management solutions. With decades of experience as data centers directors, Asset Vue's partners know the features asset management departments need, and our solutions are built through the lens of "For data center managers, by data center managers". Our technology and solutions solve the challenge of maintaining asset and inventory information, continually keeping it up to date, and doing so throughout the asset's entire lifecycle. Asset Vue has worked across industries and executed for companies of all sizes including small and medium sized businesses, colleges and universities, municipalities, and Fortune 100 companies across multiple continents. To learn what Asset Vue can do for you, please visit http://www.assetvue.com