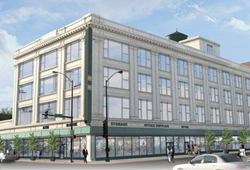 Bradley, Illinois (PRWEB) July 16, 2017
New City Supportive Living, a Gardant affordable assisted living community, is hosting a rooftop day party from 1:30 p.m. to 3 p.m. on July 19.
The community, which is located in the historic Goldblatt's Department Store at Ashland and 47th in Chicago, serves low-income older adults, including those on Medicaid, who need some help to maintain their independence.
Guests are invited to join residents while enjoying a hot dog bar and ice cream on the community's terrace.
This event is free and open to the public.
For more information about the celebration or the community, call 773-376-1223.
New City Supportive Living is certified to operate through the Illinois Supportive Living program and operated by Gardant Management Solutions, the largest provider of assisted living in Illinois.
"We provide older adults with a wonderful alternative to a nursing home or to struggling alone at home," said Aisha Burke, Director of Marketing at New City.
The community, which was completely remodeled, combines residential apartment-home living and the availability of personal assistance, help with medications and a variety of convenience and support services.
Residents live in private apartments that feature a kitchenette, spacious bathroom with shower and grab bars, individually-controlled heating and air conditioning, and an emergency alert system.
Certified nursing assistants, working under the direction of a licensed nurse, are on-duty 24 hours a day, seven days a week. Meals, housekeeping and laundry are among the included services.
"Residents also benefit from all of the opportunities that are available to socialize with friends and neighbors and to participate in activities and special programs," says Burke.
Based in Bradley, Illinois, Gardant Management Solutions operates more than 50 assisted living, senior living and memory care communities. Gardant ranks as the 12th largest assisted living provider in the country.
"Our focus," says Rod Burkett, CEO of Gardant, "is to provide New City residents with the love, compassion and dignity they deserve and the help and assistance they need. Our emphasis is on helping each resident achieve and maintain as much independence as possible for as long as possible."
Communities managed by Gardant include the Heritage Woods affordable assisted living community in Batavia, Bolingbrook, Chicago, Gurnee, Manteno, McHenry, Plainfield and Yorkville, Illinois.
Gardant also manages the Heritage Woods assisted living community in Huntley and the St. Anthony affordable assisted living community for older adults in Lansing, Illinois and the Deer Path affordable assisted living community for physically disabled adults in Huntley. In Chicago, Gardant operates Churchview Supportive Living and the Montclare Supportive Living Community that opened this summer.
For more information on Gardant Management Solutions and the assisted living, senior living and memory care communities that the company operates, visit http://www.gardant.com or call 1-877-882-1495 toll-free