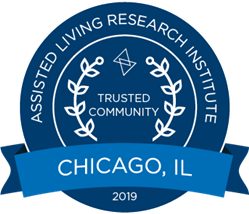 CHICAGO (PRWEB) July 19, 2019
AssistedLiving.org, an industry-leading resource for finding quality assisted living options, has announced the Best Assisted Living Communities in Chicago. The research identifies 29 top facilities based on healthcare services, amenities, resident satisfaction, affordability and more.
AssistedLiving.org used a unique selection process which involved 43 hours of research, in-depth interviews with facility staff members and resident reviews. After a thorough evaluation of over 400 communities in the Chicago area, only 29 communities were approved for the final list.
"With so many options out there, AssistedLiving.org helps seniors and their loved ones find supportive communities that offer the care and services they need to live a healthy and independent lifestyle," says Christina Drumm-Boyd, certified senior advisor and geriatric care manager.
In addition to highlighting the most trusted communities, the website also offers a directory of over 400 housing facilities in the city. Users can search by city, state and zip code as well as more detailed options such as finance preferences, amenities, health services, and activities. To view the complete list of assisted living communities in Chicago, please visit https://www.assistedliving.org/illinois/chicago/.
2019 Best Assisted Living Communities in Chicago (in alphabetical order):
Arbour Health Care Center
1512 West Fargo Avenue, Chicago IL, 60626
(773) 465-7751
Artis Senior Living Of Lakeview
3535 N Ashland Ave, Chicago, IL 60657
(872) 808-3544
Autumn Green At Midway Village
6800 S Keating Ave, Chicago, IL 60629
(815) 407-7352
Autumn Green At Wright Campus
4239 N Oak Park Ave, Chicago, IL 60634
(815) 407-7374
Barton Senior Residences of Chicago
1245 S. Wood, Chicago, IL 60608
(312) 421-5220
Belmont Village Oak Park
1035 Madison St, Oak Park, IL 60302
(708) 848-7200
Bishop Edwin Conway Residence
1900 N Karlov Ave, Chicago, IL 60639
(773) 252-9941
Buckingham Pavilion
2625 West Touhy Avenue, Chicago, Illinois 60645
(773) 973-5333
Central Baptist Village
4747 N Canfield Ave, Norridge, IL 60706
(708) 583-8500
Coles Supported Living
7419 S Exchange, Chicago, IL 60649
(773) 721-6600
Colfax Manor Assisted Living
8200 South Colfax Avenue, Chicago, IL 60617
(773) 203-4098
Covenant Home Of Chicago
2720 W Foster Ave, Chicago, IL 60625
(773) 769-5500
Eden Supportive Living
940 W. Gordon Terrace Place, Chicago, Illinois 60035
(773) 472-1020
Glen St. Andrew Living Community
7000 N Newark Ave, Niles, IL 60714
(847) 647-8332
Greenview Place
1501 W Melrose St, Chicago, IL 60657
(773) 525-1501
Mercy Circle
3659 W 99th St, Chicago, IL 60655
(773) 253-3600
New City Supportive Living
4707 S Marshfield Ave, Chicago, IL 60609
(773) 376-1223
Norwood Crossing
6016 N Nina Ave, Chicago, IL 60631
(773) 631-4856
Oak Park Arms Retirement Community
408 S Oak Park Ave, Oak Park, IL 60302
(708) 386-4040
Pioneer Gardens
3800 South Martin Luther King Drive, Chicago, IL 60653
(773) 420-4100
Silverado Orchard Park
5520 Lincoln Ave, Morton Grove, IL 60053
(224) 707-0885
Smith Village
2320 West 113th Place, Chicago, IL 60643
(773) 474-7303
St Paul's House & Health Center
3800 N. California Avenue, Chicago, Illinois 60618
(773) 478-4222
St. Joseph Village of Chicago
4021 W. Belmont Ave., Chicago, IL 60641
(773) 328-5500
Sunrise Of Lincoln Park
2710 N Clark St, Chicago, IL 60614
(773) 244-0005
Symphony Residences Of Lincoln Park
2437 N Southport, Chicago, IL 60614
(773) 472-8400
The Admiral at the Lake
929 W Foster Ave, Chicago, IL 60640
(773) 433-1800
The Carrington At Lincolnwood
3501 Northeast Parkway, Lincolnwood, IL 60712
(847) 393-4883
The Selfhelp Home
908 W Argyle St, Chicago, IL 60640
(773) 271-0300
ABOUT ASSISTEDLIVING.ORG
AssistedLiving.org is operated by the Assisted Living Research Institute. The organization developed this online guide to help address the challenges that come with aging by combining real-world expertise with data-driven metrics. AssistedLiving.org aims to connect aging adults and their loved ones with supportive communities that offer quality care as well as a sense of independence. For more information, visit https://www.assistedliving.org/.