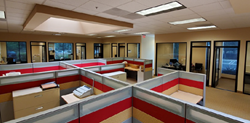 REDLANDS, Calif. (PRWEB) July 09, 2020
Robert Mendieta, Associate Broker of Keller Williams Commercial, is now focusing on more than just warehouses and industrial properties in California's Inland Empire, he's now bringing his focus to commercial office sales and leasing with a new approach to commercial office marketing in the wake of the COVID0-19 pandemic.
"Office owners are looking to "right size" in this new way of utilizing office space," says Robert Mendieta of Keller Williams Commercial, CA DRE Broker's License #01422904. "Many office users have reconsidered how much space they actually need as much of their workforce was forced to operate remotely in the wake of the pandemic. It is a way for companies to re-assess how much space they really need, and scale back to accommodate their space needs." said Robert Mendieta. "Logistics companies often need more than just warehouse space, often times, they also need commercial office space in the Inland Empire, where so many manufacturing and logistics facilities are, for their operations, sales and marketing teams and the Inland Empire is a great value."
Moving from mainly warehouses, industrial properties and truck yards means additional marketing required to compete in the competitive commercial real estate landscape. "We've rolled out a new marketing program for all sellers of commercial offices for sale in the Inland Empire including social media promotion, Google Adwords promotion and high-end commercial office videography to our marketing plans."
"When you consider 436 E. Vanderbilt Way in San Bernardino, our newest listing, it represents a perfect opportunity for a company that wants high-end commercial office space that needs to downsize." The new listing features over 5,000 SF space, including 9 private offices, 8 workstations, and all furniture, fixtures and equipment can convey with the sale, said Broker Robert Mendieta.
The New Marketing Program for all new commercial clients will include the following services: custom videography of the exterior and interior of your commercial property, social media promotion on Facebook as well as direct advertisement on Google Adwords. "We've found some of the best videographers in the Southern California region that specialize in real estate videography and social media promotion and an example of their work is attached to this press release."
Robert Mendieta, Associate Broker for Keller Williams Commercial: Robert Mendieta has over 17 years experience in real estate with over $100,000,000.00 in sales. What set's Robert apart from other commercial agents is his ability to market their properties by video, social media and through Google Adwords. To connect with Robert, email him at robmendi@gmail. Or call Robert today at (951) 977-3251.