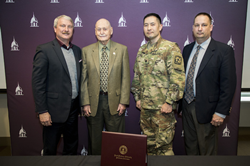 The changing educational and employment climate forces all of us to look carefully at our programs and determine what the job market will require in the future. Our five new programs reflect marketplace trends and will prepare our graduates for developing career fields.
HENDERSON, Tenn. (PRWEB) March 18, 2019
To offer new career paths for both traditional and non-traditional students, Freed-Hardeman University will launch five new programs beginning Fall 2019. These will include an online associate's degree, Army Reserve Officers Training Corps (ROTC), accelerated bachelor's/ master's program, cybersecurity and certification in financial planning.
Through the online associate's degree program, qualified high school sophomores will be able to complete their high school graduation and associate's requirements simultaneously. The program will also be available to dual enrolled high school students. Adult students can also enroll through the Tennessee Reconnect Program and veterans can further their education through the Tennessee Strong Act once approved by the state of Tennessee. The online program satisfies the general education requirements for most bachelor's degrees. More information about the program is available at FHU.edu/online-aa.
FHU is the first regional colleges and universities associated with churches of Christ to offer on-site the Army Reserve Officers' Training Corps (ROTC), the program prepares students for enlistment as officers in the active Army, Army Reserve and Army National Guard. Under the oversight of the University of Tennessee at Martin's program, FHU's ROTC program will focus on classroom instruction, routine physical training and leadership.
"We believe the mission of FHU to help students find and cultivate their God-given talent, coupled with achieving their goals to be the best they can be in service to our country, is a perfect fit," Carl Hartmann, FHU's veteran liaison, said. "ROTC shapes leaders and excellence while FHU provides a strong, secure and positive environment to do it in." More program information is available online at FHU.edu/rotc.
Students can complete one of two 4 + 1 programs in education. The Bachelor of Science in Biology/Masters of Arts in Teaching program will lead to a dual degree and a secondary licensure in biology. The Bachelor of Science in Interdisciplinary Studies: Elementary Education K-5/Masters of Arts in Teaching in Special Education program will lead to a dual degree and dual licensure in elementary education and special education. The programs can be completed through 150 credit hours with undergraduate courses offered in the traditional format while graduate level courses will be a hybrid of evenings, Saturdays, web-conferencing and summer sessions. Students begin taking master's courses in their senior year of undergraduate studies. The teacher licensure and internship component are completed during the fifth year of study.
"Our 4 + 1 programs can accelerate students' studies, helping them prepare better for a future career," Alesha Northcutt, assistant professor of education, said.
Unique in the region, the university's new Bachelor of Science in Cybersecurity will prepare students with concepts, industry best practices and strategic leadership. Graduates will be prepared to take various certification exams.
"Various agencies estimate that there will be 3.5 million unfilled cybersecurity positions by 2021," Leann Davis, dean of the College of Arts and Sciences, said. "Students can also minor in cybersecurity, which is a good pairing with a computer science degree, a degree in criminal justice or various degrees within the College of Business." More program information is available online at FHU.edu/cybersecurity.
The Bachelor of Business Administration in Finance: Financial Planning program is designed to prepare students for careers in financial planning and related industries. The 63-hour major combines a solid general business foundation with a focused financial planning curriculum. The FHU College of Business is a CFP Board educational partner and the Financial Planning program has been approved as a CFP Board Registered Program. This means that students completing the Financial Planning program at FHU automatically meet the CFP Board educational requirements and are immediately eligible to sit for the CFP® Certification Exam.
"There is tremendous interest in this growing field," Ryan Hysmith, assistant professor of finance, said. "And we are proud to offer such a practical, relevant, career-ready degree program in financial planning." More information about the program is available online at FHU.edu/financial-planning.
The mission of Freed-Hardeman University is to help students develop their God-given talents for His glory by empowering them with an education that integrates Christian faith, scholarship and service. With locations in Henderson, Memphis, and Dickson and online classes, FHU offers associate's, bachelor's, master's, specialist's and doctoral degrees. More information is available at fhu.edu.