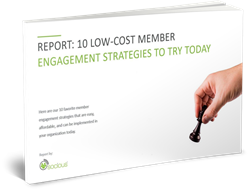 "These are strategies that associations can put in place today, without asking for more money or resources from their boards."
Mesa, AZ (PRWEB) October 31, 2016
Socious recently revealed a new report on top member engagement strategies for association executives and staff. The report contains 10 of the top strategies that Socious's engagement specialists use to increase engagement in their client's organizations.
Each strategy included in the free report was chosen due to its efficacy and low financial burden. Associations can implement the strategies using the tools already at their disposal, such as association management software, email, or survey engines. None require additional expertise or hours of extra work.
"These are strategies that associations can put in place today, without asking for more money or resources from their boards," said Joshua Paul, VP of Marketing and Strategy at Socious. "Some of the associations we've worked with in the past used these methods and saw results in only a few weeks or months. Others saw continued improvement over time."
By increasing engagement, associations often see increases in revenue, as well as stronger relationships that lead to greater loyalty and renewal rates.
The member engagement strategies in the report are designed not only to benefit associations, but members as well. They build interaction between members, their peers, experts, and the association staff as a whole by improving the member experience.
"We're very member-centric here at Socious," Joshua said. "We believe everything we help associations do should not only benefit the organization itself, but also its members. That's the best way to build loyalty and communicate value."
Several of the report's strategies use specific techniques to improve the quality of information that associations give to members. With better communication and information, associations remain top of mind. They also give members the tools and motivation they need to start taking advantage of their member benefits instead of sitting on the sidelines.
Other strategies help associations stand out from an increasingly large crowd of competitors or use organizational and technology shortcuts to make participation easier for members.
Since it spans so many different techniques, all of which are affordable and easy to implement, Socious's new member engagement strategies report provides something for everyone. Associations of all types, sizes and industries can use these easy-to-implement strategies in their own way to reach their unique member base.
Socious's low-cost member engagement strategies report is completely free and available to everyone, from associations and other member-based organizations to for-profit businesses seeking to increase customer engagement. To get your report and start implementing new member engagement tactics today, visit socious.com.
About Socious
Founded in 2002, Socious (socious.com) offers software and services to help associations and user communities take a members-first approach to growing and engaging their membership. Socious's MemberCloud platform manages over 1.8 million members for many of the world's top associations and companies.
Socious's cloud-based association management and community software includes membership management, private social networking, customer communication tools, discussion forums, and collaboration tools to help organizations increase sales, retention, and member engagement.
Socious provides a full range of professional services to help organizations manage their membership, grow their community, and plan events. Take a video tour of Socious's MemberCloud membership software.